Wicked's musical director shows work and determination pay off.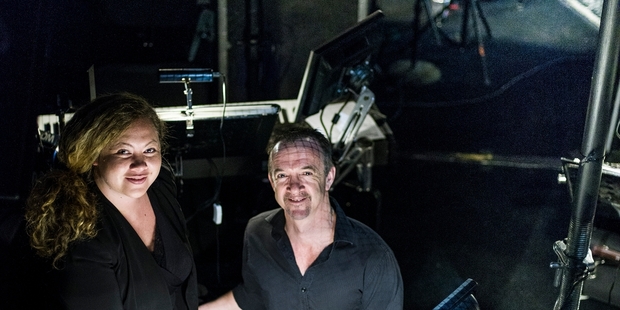 David Young remembers fondly childhood visits to Auckland's Civic Theatre, where he was spellbound by the oriental-style architecture, the stars and wispy clouds on the blue ceiling and the red eyes of the lion statues guarding the stage.
So it's an honour for him to return some three decades later to work at the mighty Civic. David, or DY as he's known, is the musical director for the multi-million dollar award-winning stage show Wicked now in the city.
It's not the first time he's worked at the Civic; DY was assistant musical director for Mamma Mia, but he never tires of returning and reflecting on the building's magic - which is a good word to describe his own journey from being an expectant and excited audience member to a pivotal part of one of the world's biggest musicals.
Not that going from budding musician growing up in Auckland to an in-demand musical director simply comes down to magic or luck.
DY says it's a competitive business requiring drive, determination and a willingness to work hard and long hours; even then, there might be long periods out of full-time work which, for DY, means turning his talents to teaching, coaching or working as a freelance musician.
Nevertheless, he is proof that a love of - and talent for - music can lead to exciting career opportunities - if you have the nerve to follow your heart. "I have been so lucky to be able to work in this industry, but even if it hadn't led to full-time job opportunities and I had gone away and done something different, I would still play in an amateur orchestra because music makes me happy."
With musical supervisor Kellie Dickerson and assistant musical director Laura Tipoki, DY is responsible for all the music in Wicked (21 songs, written by Broadway composer Stephen Schwartz, and dance numbers) as well as conducting the musicians who play in the pit below the Civic stage and those on stage.
There are eight performances a week and he conducts six of those while Tipoki does the remaining two.
DY rates Wicked's vocal demands as high. It includes several musical styles and it's also his responsibility to bring out the best in the performers.
The 14-strong group of musicians are mainly New Zealanders DY recruited during auditions this year.
His standards were high and the requirements tough, partly because the Wicked score is so demanding.
Each musician has to play at least two instruments and be able to work to unforgiving deadlines. They had just 15 hours practice time together before technical rehearsals started.
As a youngster, DY played "piano well and tuba not so well" and attended Auckland Grammar School, where he was an active member of school orchestras and bands.
He enrolled at the University of Auckland in a bachelor of music degree (composition) and on graduating headed to London, where he worked in a variety of jobs.
He acknowledges some people can find the training part of their career - of having to do the perhaps more repetitive and basic exercises - somewhat difficult. He counsels sticking with it and using university as a place to expose oneself to many different styles of music and get involved with what other musicians are doing.
"When you feel like giving up, just give it another few weeks because you can gain a little more knowledge, turn a corner and feel differently about things."
And what of the fears a music degree won't lead to a job? He suggests you can always do a more vocationally orientated qualification later but it's worth seeing where a love for music might take you.
After seven years in London, DY travelled to Australia to pursue a full-time career in music.
He started auditioning and his first professional engagement was on My Fair Lady in Sydney.
While Wicked audiences don't see a lot of DY - it's mainly the back of his head and his conducting hands - he's everywhere backstage, courtesy of monitors which relay his instructions to cast and crew waiting in the wings.
A further two screens hang above the audience and are visible to performers on stage who need a clear view of his musical direction.
Meanwhile, Laura Tipoki's journey to assistant musical director has been influenced by Kiwi factors, too. While she was born in Sydney, parents David Tipoki and Vickie Larkin and grandparents Patty and Robbie Lane are New Zealand musicians. Her grandparents were active in Maori show bands and on the club scene in the 1960s and 70s.
Tipoki started playing piano at 3 and pursued qualifications in flute, voice and dance before studying classical piano at the Queensland Conservatorium.
She is excited to be performing in her family's homeland, but she's not the first one in the family to take part in Wicked. Sister Patrice has played the role of witch Elphaba.