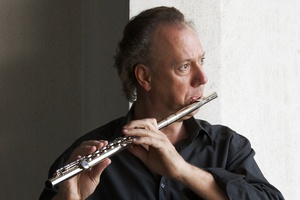 In these sorry times when achievement is too easily gauged by approbation on YouTube and Facebook, it is sobering to reflect on the very real achievement of The Dream of Gerontius as a testament of both spiritual and musical faith.
In 1900, Elgar's massive oratorio single-handedly wrenched British choral music out of its stifling Victorian complacency.
"I like what I have done," the composer declared. "I am bold and have shirked nothing. I've made my atmosphere and stuck to it."
These words repeatedly came back to me during Auckland Choral's magnificent account of the piece on Saturday, boosted by a superb Auckland Philharmonia Orchestra, all masterminded by conductor Uwe Grodd.
Grodd gave the orchestral Prelude ample time to move from dark mysteries through seductive chromatic byways and striding marches, with organist Christopher Wrench conspiring to make the very floor tremble underfoot.
The oratorio is dominated by Gerontius and his is the first voice we hear. David Hamilton had lost none of his ability to catch the soul-searching subtlety of Elgar's declamatory setting, but one was aware of vocal strain and sometimes an alarming rawness of tone.
Not so with Helen Medlyn's Angel. All was assurance here. She conveyed the gravitas of her lines and found dramatic engagement in her dialogues, punctuating tender wisdom with glowing Alleluias.
The solid resonance of Martin Snell's basso cantante was appreciated, particularly as the Angel of the Agony. This was as moving as any Wotan farewell, with the bass bringing out the cumulative power of his pleas.
This was something of a choral spectacular. Auckland Choral had been augmented by the forces of Brisbane Chorale; and the University of Auckland Chamber Choir took on the semi-choruses, adding a special dimension to the score's textures and drama.
The choristers responded well to their conductor, whether in hymn-like simplicity or in full fugal fray. With the considerable armament of the APO behind them, they took particular delight in delivering the demons in Part II.
Above all, one felt a palpable rapport between choir and soloists, especially in the final pages, with the moving leave-taking of Medlyn's Angel.
Classical music review
What: Auckland Choral
Where: Auckland Town Hall
When: Saturday