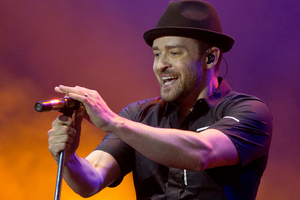 Justin Timberlake says 'N Sync and One Direction should form a super group.
The American singer-and-actor, who was reunited with his 'N Sync bandmates for a special performance at the MTV Video Music Awards last month, believes joining forces with the British boyband could lead to global domination.
'N Sync was a worldwide sensation during the 90s, but One Direction are now ruling the charts.
"I mean, really, come on. Can 10 of those kind of hairstyles really be on the same stage?" Timberlake told UK TV show Daybreak when asked if he would consider reforming 'N Sync to rival One Direction.
"I think we already know the answer to that question.
"We should just form some super group. It would be hilarious."
Timberlake admitted he didn't know much about the British boy band, but the 32-year-old had been impressed by how they had handled being in the spotlight.
"I haven't seen the One Direction lads too much just because I am constantly moving at probably the same pace they are," he said.
"But what I have seen is that they seem grounded to me and I like that about them."
Timberlake is currently promoting his new movie Runner Runner, which sees a poor college student crack an online poker game.
The star said he was different from his film character as he didn't enjoy gambling or taking risks in real life.
"No not really. I gambled in Vegas a few times, but I am not the gambling type," he said.
When asked if he saw his decision to marry Jessica Biel as a risk, Timberlake said: "No, I am happy with that one."
- COVER MEDIA