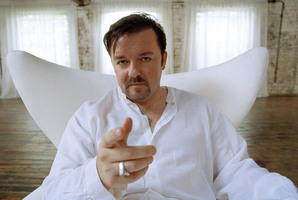 After Alan Partridge's seamless transition to the big screen, it was only a matter of time.
Ricky Gervais has revealed plans to make a movie starring his Office character, David Brent.
The comedian recently resurrected the former Wernham Hogg boss for Comic Relief, followed by of a series of YouTube videos titled Learn Guitar With David Brent.
Gervais said the video series "will be the basis for a movie about Brent trying to make it in the music industry".
The clips feature the fictional office manager performing his own original tunes, including Spaceman Come Down and Freelove Freeway.
The Brent revival will continue with an album of music by Gervais's alter-ego. He has received "ridiculous offers from major record labels all over the world for a David Brent album" and is currently in discussion with Fiction Records, home of Elbow, over a deal.
Gervais, 52, who will also star in the new Muppets movie, has been rehearsing with a band for an expected live musical performance by Brent at a charity concert later this year.
First aired in 2001, The Office returned for a Red Nose Day special this year, catching up with Brent, who had now become a music industry talent manager.
Alan Partridge: Alpha Papa and The Inbetweeners movie, which will spawn a sequel next year, have demonstrated the potential for cinema spin-offs of British television successes.
Where Alan Partridge was largely a UK phenomenon, a big screen version of The Office will benefit from international brand awareness.
The original "mockumentary" series was remade in many different countries, including the US where a hit version starring Steve Carell, ran for eight years.
- The Independent