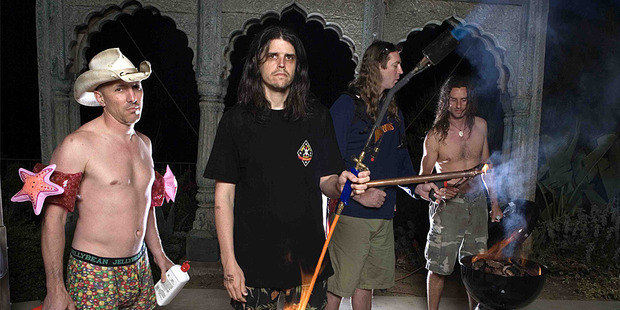 That's more like it. After two Big Day Out performances - the first great, the second lacklustre - Tool finally deliver a show that's fitting of their art metal majesty. It's just like being back at the North Shore Events Centre in 2001 on the band's last solo headlining visit here - only bigger, more intense, and better.
Aloof and menacing singer Maynard James Keenan is still perched at the back of the stage alongside fearsome drummer Danny Carey, while out front, guitarist Adam Jones is a mix of earnest intensity and geek cool and bass player Justin Chancellor is an energetic, foot-stomping presence.
The band - and especially Keenan - are well known for their pretentious and uncompromising aesthetic. And tonight they out do themselves insisting the crowd do not use their cellphones at all - not even to text their mates to tell them they are at Tool.
It seems a little over the top, though it's refreshing not to see people filming the band (as is often the case these days) rather than sweating it out and actually living the experience. So maybe Maynard is on to something.
In contrast to Tool's unashamed pretensions, Hawkes Bay support band Jakob (who supported Tool on their Australian tour a number of years ago) are a picture of understated intensity as the instrumental trio whip up a beautiful sonic onslaught.
Tool's two-part set smoulders into existence with prowling, multi-part epic Third Eye, off their best album Aenima from 1996, which escalates into a heavy assault with Keenan's maniacal megaphone-injected scream. Things settle down, momentarily at least, for the intro to Vicarious, before that kicks in and inspires the first big, bouncing crowd movement of the night.
But if the first half had a flawless ebb and flow of loud pummelling and lingering atmospherics to it, with the swaggering heaviness of Lateralus a stand out at the end, then the second stanza was pure devastation.
With the reckless and ravaging opening riffs of Jambi they put the metal hammer down, and by the time Forty Six & 2 hits they are primed and unstoppable, and as the primal twang of Stinkfist kicks in for the finale the sold-out crowd go nuts.
Couple this aural assault with an expansive and trippy laser light show, and Tool's trademark sick, ghoulish and disturbing visuals, it is one of the best concerts yet at Vector.
Keenan's voice is not as strong as it once was, and he leaves it to the crowd to sing along on occasion.
Though when he's barking into that megaphone he's as unnerving as ever, and at the other extreme he hits the beautiful, tender high of Aenima - with the line "'Cause I'm praying for rain, I'm praying for tidal waves" - perfectly.
Tool really are freakish. Because there is no other band around who are as heavy and musically challenging yet as popular as they are - and that's what makes them so good.
*Tool also play tonight at Vector Arena.