Ross Purdie talks to a quirky US band visiting New Zealand who pen songs with baffling lyrics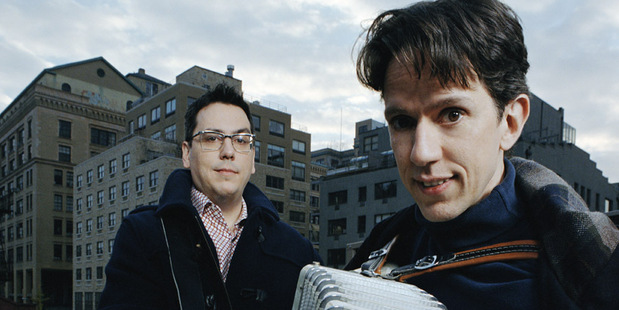 Offbeat pop duo They Might Be Giants have never seen the value of gracing any of their 16 album covers.
Often wrongly depicted as a cartoon novelty band, Americans John Flansburgh and John Linnell have spent a career hiding from the limelight.
"I think we're deep as people but still sort of ordinary," says Linnell.
"We're not really exotic individuals and we really want to focus the attention on the work rather than us. That's the interesting part."
Best known for their quirky 1990 hit Birdhouse In Your Soul, They Might Be Giants have built a cult following of fans who enjoy their music served up like a Mensa test.
The band have delivered songs in morse code, penned baffling lyrics about forgotten US presidents and robots from the future, and famously pre-dated the internet with a Dial-A-Song service that offered free songs on their answering machine.
In 1996, after ditching their trademark drum machine and updating to a five-piece, the band recorded songs on a wax cylinder at the Edison Museum, and for much of the "noughties" focused on music for children.
Fans were so perplexed by the band's weird and wonderful lyrics that a hardcore of devotees founded the website, This Might Be A Wiki, as a forum to dissect their songs.
"I'm glad they [fans] take the time to do that because we've always tried to put puzzles in our lyrics and there's not always one answer," says Linnell.
"People come up with stuff we've never thought of before so it's satisfying to have created that kind of open-ended mystery."
Though imaginative songwriting sets They Might Be Giants apart from their contemporaries, Linnell says the challenge to continue comes at a cost.
With their fans scrutinising every word, there is pressure for the Grammy-winning band to maintain an air of mystique. "We don't feel like we can ever relax our standards because we've been writing songs this way for so long," Linnell says. "It's difficult to not ever repeat yourself as well as continue topping your work. You have to keep thinking outside of what you've done in the past."
The title of the latest album, Nanobots, is a reference to the science fiction concept of minuscule, self-replicating robots who may one day perform medical functions on humans, from fixing cells to reproducing DNA.
Though Linnell acknowledges the rise of nanobots could be the stuff of fantasy, he sees a connection to the very real prospect of having children.
"When you're a parent you come to realise that you've set something into motion that very quickly you start to lose control of," he explains.
Ahead of their show at the Studio in Auckland on May 18 (as part of a wider Australasian tour with many dates across the ditch sold out), Linnell says they consider touring the fun side of music, once the hair-pulling of writing songs has been achieved, and both Johns are looking forward to reconnecting with their true fans.
"The closer you get to us the less of a caricature there is," says Linnell. "The people who really appreciate what we're doing are not interested in the cartoon version."
Who: They Might Be Giants
What: Quirky pop rockers from Boston
Playing: The Studio, Auckland, May 18
New album: Nanobots, out now
Also listen to: They Might Be Giants (1986); Lincoln (1988); Flood (1990) No! (2002)
- TimeOut / AAP