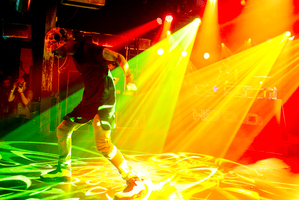 Since his hit single Day 'n' Nite, Kid Cudi has done everything possible to ensure he hasn't become a one-hit wonder. So he's positioned himself as a mini-Kanye, mixing chart-grabbing singles and guest appearances with excellent mixtapes (2008's A Kid Named Cudi is essential listening), a side-project called WZRD and an ambitious plan to release three futuristic prog-rap albums.
The second of those was released in 2010 and he's put the third on hold to release Indicud, a head-scratching record aimed at true fans. Sure, Cudi can be an engaging presence and his paranoid ramblings - try the woozy lope of Unf***wittable, Immortal's hummable chorus and the grand thump of weed anthem Just What I Am - are perfect for 2am headphone listening sessions.
But Cudi's Kanye-like decision to produce every song on the album, mostly with simplistic thuds and occasional synth stabs, turns Indicud into a repetitive, occasionally dour grind over 18 tracks. Cudi doesn't have the flow to rise above average beats - a point proven by man-of-the-moment Kendrick Lamar when he guests on the forgettable plod of Solo Dolo Pt II and ends up destroying Cudi.
And Cudi's decision to let Michael Bolton loose on the tuneless Afterwards is simply unforgivable.
It's a mixed bag from a rapper quickly earning a reputation for being unreliable.
Stars: 3/5
Verdict: A mixed bag from uneven Brooklyn rapper
- TimeOut