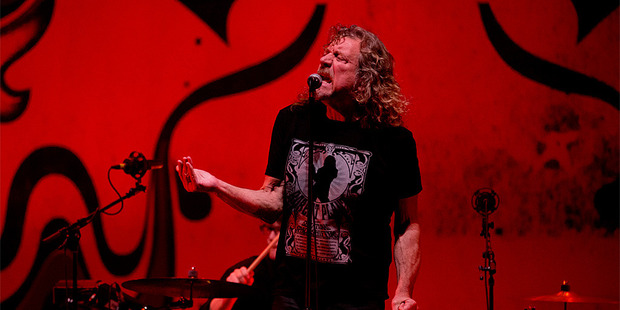 Security staff at Robert Plant's Vector Arena show have been accused of heavy handed efforts to stop fans dancing.
The former Led Zeppelin frontman complained from stage about "draconian" security at his Auckland show last night.
He was annoyed that fans weren't able to stand against the front railing at the arena without coming into conflict with security.
"I'm nearly 65 years old, I'm hardly going to start a riot," he said.
Several nzherald.co.nz readers have backed his views, saying they were treated roughly when they got up to dance.
Robert Jones said he was kicked out of the show after dancing during Ramble On.
"The security then pushed us all back and we all rolled back, and we all rolled forward, I was pushed from behind and knocked into a young security man who then just grabbed me and dragged me out."
The show, which was priced at between $123 and $153, was entirely seated.
Security did allow a roped off area down the sides for people to stand and dance but were faced with complaints about people dancing outside the designated space.
Vector Arena general manager Stuart Clumpus said security staff had a tough job balancing the expectations of fans who wanted to dance against those who wanted to stay seated.
"We've got this dichotomy between people who want to get up and dance and people who've paid $150 for a seat. It's hard to balance."
Clumpus said he decided late in the show to allow people to dance against the front railing.
Plant's management had requested an all-seated show and that may not have been the best option, he said.
He would make it clear to fans at future seated gigs that security could get involved if they stand up.
"We're still learning and this is a learning experience."
Clumpus claimed that Plant said after the show that his comments about security were made in the moment and should not have been so critical.
- nzherald.co.nz