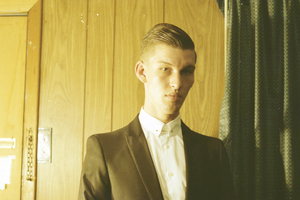 Willy Moon is a guy who knows how to be cool. Classy suits, a tie-in with an Apple commercial, Jack White's record label releasing one of his singles, and an all-girl band - it's quite a checklist. But there's a reason this 23-year-old from Wellington, who's been based in London for the past five years, is getting that kind of attention. He's making an intriguing musical hotpot - stirring up 50s rock 'n' roll, heavy electronic beats, the groove of rhythm and blues, a hint of swing, and the occasional Wu-Tang sample - and somehow keeping it tasteful and catchy.
The lush strings and impetuous bass beats of album opener Get Up (What You Need) could've been constructed for a Kanye West album, but when Moon begins singing with a Buddy Holly kind of drawl, it becomes a different ball game. His semi-autobiographical lyrics about taking control of your life (Moon's had his demons to battle with, having lost his mother at a young age, and a father who had to work overseas), give the track a youthful passion, too.
Next up he's pulling inspiration from chain-gang chants and the rhythmic swing of the picks of 19th century railway workers on Railroad Track, and grabbing snatches of 1920s and 30s-era Chicago on Working for the Company and Fire. There's the odd moment when it sounds like it could all get too gimmicky, a bit too pastiche, but then the groove kicks in and his chameleonic voice floats out, and those swinging muted horns are where they should be. His early singles Yeah Yeah and I Wanna be Your Man are probably still the freshest, most sonically gripping arrangements on the album, with their 90s hip-hop swagger, breathy backing vocals, Southern croon, stomping percussion, and cheerful guitar flickers.
His lyrics are a bit simplistic, but they reflect the simple sentiments in 50s rock 'n' roll, and maintain cohesion in songs where there's so much else to listen to.
The swampier, heavier, more fuzzed-out sonic palette of tracks like What I Want, the instrumental Murder Ballad, and his covers of Shakin' and I Put a Spell On You provide a smart shift into the more weighty waters of Tom Waits or Jack White (who also covered Shakin' on his 2012 album Blunderbuss) without quite finding their raw sincerity.
It's all taken at breakneck pace - there's only one track in the 12 which is over three minutes, and the whole album comes in under half an hour, which Moon says is a reflection of his short attention span, but also keeps his concise ideas from getting ponderous. Having said that, the tracks sometimes feel a little flippant in their brevity and coolness, and flash past a tad too quickly to leave a lasting impression. An injection of emotional weight might help the songs feel less throwaway.
They're snappy little bites of pop goodness, but they don't have the deep resonance which would l make you turn back to this album over and over.
Stars: 3.5/5
Verdict: Snappy, bombastic blend of blues, rock 'n' roll, and hip-hop
- TimeOut