Tell my fans to request the songs they want to hear, Josh Groban tells Paula Yeoman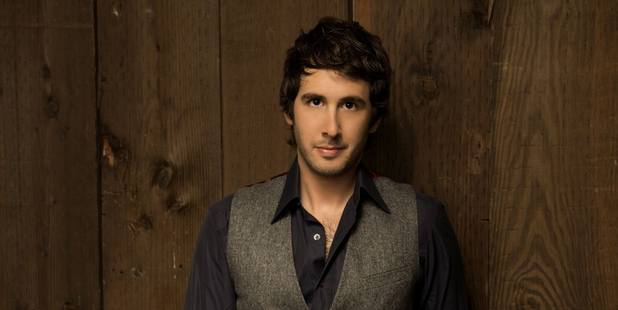 Josh Groban must be one of the biggest anomalies in music. On one hand, he's the straight-laced, classical pop superstar with the booming voice, adored by mums and grannies across the globe. On the other, he's the kooky funny guy who makes cameos on Glee and The Office and whose hilarious 'Groban sings the best Tweets of Kanye West' skit has achieved comedy cult status in cyber space.
And, just one week out from his first New Zealand concert, the 32-year-old singer reveals that there's much more to his public persona, including the big softie who misses his dog Sweeney when he's travelling the world. "When I'm on tour in the States, he comes with me on the tour bus. He loves travelling and he loves the venues. He's a real people dog."
Of course, there will be no Sweeney in tow when Groban sets off on his All That Echoes world tour this week, kicking off in Auckland on April 13. Instead the self-confessed video addict will be bringing a stash of gadgets.
"I have an eReader which holds tons of books. And I'll definitely bring a PlayStation 3 or something like that. The best way for me to wind down after a concert is to shoot things in my game," he laughs.
"There is a game called Far Cry 3 where you're lost on this island and you have to save your friends. It's an open world game. The graphics are amazing and you can do all sorts of things - you can barter, you can drive any kind of vehicle. It's the best way to lose an evening without knowing it."
Not that Groban wants to lose too many nights roaming virtual worlds. He says international travel is one of the biggest perks of the job and something he's never tired of, despite having toured extensively since he emerged as the new shining star of 'popera' accompanying Sarah Brightman on her 2000-2001 world tour.
"Travel is the greatest gift the industry has been able to give me. I am one of those people that will eventually settle down and have a family and say, 'Oh touring, oh no I don't want to do this, anymore.' But at the moment home is where the pillow is. I am perfectly happy to never unpack my suitcase and travel the world. "
But there is also plenty of hard work that goes into preparing for a tour.
"There's a lot of rehearsing and just preparing your body and your voice and your mind for that kind of gruelling schedule. When you're recording a record, you're singing a lot but there's a different kind of stamina you need to perform every day.
A lot of it is training the way an athlete would for a season. It's about finding the right songs to sing on your tour and making sure that you are healthy enough".
It's been more than 10 years since Groban was last in New Zealand for a promotional visit. He still laughs at how he managed to wriggle out of going barefoot skiing at 5am with representatives from his record label. There is, however, one thing he won't be saying no to - a bottle, or two, of local wine. "New Zealand has some of the best sauvignon blanc."
On a more serious note, Groban is apologetic that it's taken him so long to return.
But for those Kiwi fans that have waited more than a decade to see him perform live, he's promising something special.
"We have a chance... where we can truly pick any song we want from any of the six albums. I would love to hear what some of the fans in Auckland would love for us to sing. That would be a big help."

Josh Groban's album All That Echoes is in stores now. He performs at Vector Arena on April 13. To request a song at his show, visit Warner Music NZ's Facebook page.