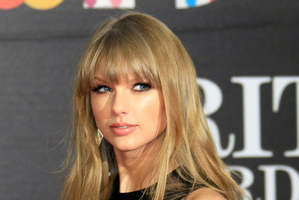 Another week, another headline-hogging Taylor Swift romance rumour.
Just days after Swift set tongues wagging after she was snapped stepping out with British singer-songwriter Tom Odell, rumours are running rampant that the songbird has upgraded her friendship with folk-pop singer Ed Sheeran to a full-on romance.
The romance buzz re-surfaced last week after E! Online initially reported that Swift, 23, and British crooner Sheeran, 22, had supposedly spent the "night together at [a] London hotel."
According to a "witness", Sheeran was spied arriving at Swift's London hotel on the night before the Brit Awards, and that the pair "stayed in the room, just the two of them, until around 4 am".
Sheeran was seen leaving the hotel in the same clothes he had been wearing the night before, the website claimed, adding that he looked "very happy" and "pleased with himself," before being whisked off in the country-pop starlet's car.
But as Gossip Cop notes, E! later amended the report, removing the more suggestive, nudge-nudge wink-wink elements.
The crux of the yarn? They spent some time together before the awards show. And that's your lot.
Sheeran and Swift "briefly dated" last year, a source also told E!, adding that they had "great chemistry" together.
Britain's The Sun then went to town over the romance speculation, booming in a report that it's game on for the pair: "Swift is dating one of ex-boyfriend Harry Styles' best pals, Ed Sheeran".
A source said: "Taylor has always loved Ed to bits. He's just an adorably sweet guy who makes her laugh and feel really confident.
"Harry had that irresistible bad boy thing but Taylor has realised she would rather give it a go with a guy who can make her happy on a different level."
Adding, "He's thrilled as he has always thought she's amazing. When they split last year he always hoped they would get back together.
"They've both vowed not to have a nasty break-up no matter what happens."
'WE'RE GOOD FRIENDS'
But Sheeran, who collaborated with Swift on her track Everything Has Changed, and will support her on tour in the US from mid-March, has put the kibosh on the hookup rumours, insisting they are just pals.
"We're good friends," he told The Sun.
The Mirror concurs.
The webloid claims that the pair is in fact getting it on - in the studio. They're purportedly writing songs together for Sheeran's upcoming album.
A source said: "They really hit it off when they met last year and they've got a really good friendship.
"His relationship with Taylor is not about sex or dating, it's completely platonic. They are just two amazing artists who are making good music.
The source continued: "He's made the transition from urban roots to mainstream pop and is really making the most of having such a loyal fan base."
A spokesperson for Sheeran has also denied there's romance afoot.
"Ed is not dating Taylor. They are just friends," the rep told heatworld.com.
Echoed an insider: "The idea of them getting together is ridiculous. He's about to embark on a 9-month US tour with Taylor so they are obviously close friends but that's all it is. The tour is a huge deal for Ed and a chance to really launch him in the States, he's really focused and his relationship with Taylor is purely professional and platonic."
Sheeran has previously said that he doesn't think he's Swift's type.
"We had great fun when we met, but I don't think I'm Taylor's type," he said in December. "If you look at all the dudes she's dated, they're all tall, brown hair, brown eyes, very attractive and all the girls scream for them. I'm chubby, ginger with blue eyes."
Rumours of a possible relationship between the pair emerged last year when Sheeran had the word 'Red' tattooed on his arm, in tribute to Swift's latest album.
Check out what Sheeran had to say about the ink and the romance rumours during a recent radio interview below:
FAST GOSSIP
And finally...
* Joan Rivers refuses to apologise for Holocaust joke.
* Not so happy returns: Justin Bieber's "worst birthday" ends abruptly after confrontation with club security.
* Christian Slater is engaged to long-term love.
* Tori Spelling blasts Star magazine over Dean McDermott divorce rumours.
* Rihanna reveals baby plans with Chris Brown: "I will probably have a kid".
* Gwyneth Paltrow admits she "should have worn a bra" at the 2002 Oscars.
* Morrissey slams Beyonce for her choice of handbags.
* Charlize Theron dating Seth MacFarlane? Not so fast...
* Adam Levine says he likes to take his ladies to McDonalds on a first date.
* Shirley MacLaine to return to Downton Abbey for new season; Dame Kiri Te Kanawa also set to join the cast as a singing guest.
Follow Myrddin Gwynedd on Twitter.
- Rumour Has It