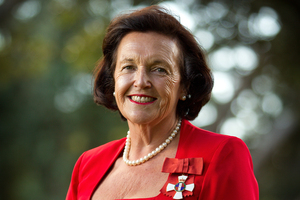 Arts and Culture Minister Chris Finlayson introduced the first concert of Auckland Philharmonia Orchestra's New Zealand Herald Premier Series last week.
His banter included a suggestion that departing APO chairwoman Dame Rosanne Meo would be a great Treaty negotiator. He would, he said, like to set her on Ngapuhi.
On Thursday, Meo herself spoke before the orchestra's second concert. There were no flippant jests this time around. She was bitterly disappointed with the Government's just-announced orchestral review. Ignoring too many crucial issues and preserving the status quo for another two years, it was "just all too slow".
Thursday's programme was a curious mix, but one that revealed the strengths of the orchestra.
A sonorous Parsifal Prelude had conductor Eckehard Stier conveying the rich intimations of Wagner's opening unisons and the steadfast exultancy of his Faith theme - virtues that were even more apparent in the opera's Good Friday Spell.
The evening's soloist was principal trumpet Brent Grapes, taking on Alexander Arutiunian's popular concerto. Grapes was fighting fit for Arutiunian's cheeky Allegros, while Stier had the orchestra walking a musical tightrope between Prokofiev and a Hollywood Western score.
In the middle section, which suggested that Borodin might be alive, well and writing in 1950, Grapes' muted instrument evoked, at one point, a melancholy oboe and, at another, a faraway, lonely saxophone.
The piece ended rather bluntly after the soloist had dazzled us with the celebrated Dokschitzer cadenza, but Grapes returned to cajole us with a beautifully phrased Lyrical Etude by American composer Philip Snedecor.
Cesar Franck has suffered some derision as an organist-composer and, yes, one did pinch oneself in the first page of his D minor Symphony to realise that the euphonious wind harmonies were not emanating from the pipes above the stage.
This work has been described as a wide-eyed frolic through the tonal system. Stier, unconcerned with the composer's sometimes irksome repetitions and obsessive themes, delivered it in just that spirit, with swipes of fortissimo and daredevil, billowing dynamics.
The sheer poetry of its Allegretto second movement, however, remained inviolate, thanks to Martin Lee's ravishing cor anglais.

Music
What: Auckland Philharmonia Orchestra
Where: Auckland Town Hall
When: Thursday