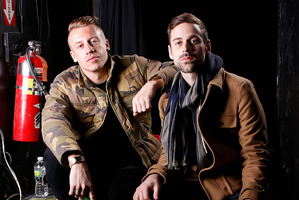 If the screaming from the 5500 strong crowd at Vector Arena on Friday night was anything to go by, Seattle hip hoppers Macklemore & Ryan have reached the big time.
The independent duo, who tour with the addition of two guest vocalists, and outstandingly talented trumpeter Owuor Arunga, finished their first tour of New Zealand in Auckland with a triumphant show that proved hip hop can be smart and socially conscious, while also being downright cheeky and blazingly fun.
They only released their debut studio album late last year, but given that much of the audience knew all the words to many of the tracks, it's not just the hit singles which have made an impact. In a nearly two hour set, the group managed to fit in a clutch of older EP tracks, as well as most of the tunes from The Heist, and they had the crowd's excited attention throughout.
Tall, red-headed front man Macklemore (real name Ben Haggerty) was a powerhouse of energy right from the top, every lyrical line delivered with emotional conviction, many of them demonstrated with equally punchy gestures.
And production/DJ maestro Ryan Lewis had his unconventional beats sounding huge enough to induce heart palpitations, while also jumping round the stage like a hyperactive monkey.
They opened with soaring Ten Thousand Hours, quickly built their way up through Life Is Cinema, before managing to coax a large possum fur coat out of the audience, and launching into Thrift Shop, featuring guest vocalist Wanz, larger than life in a bright pink suit, and owner of an incredible baritone voice.
Then it was on to My Oh My, a touching tribute to late baseball broadcaster Dave Niehaus, which had the crowd cheering as if Dave was a Kiwi icon. Then Macklemore paused between songs to talk about overcoming his drug and alcohol addictions, and finding creativity again, before tackling Otherside.
He also took a moment to discuss New Zealand's upcoming vote on same-sex marriage, before powering into beautiful ballad Same Love, and though guest vocalist Mary Lambert wasn't there to provide her confessional fragile hook, the crowd singalong made up for it.
From there it was mostly about keeping the party going, through crazy, pounding Can't Hold Us, with it's epic horn lines, Wing$, Victory Lap, and Gold, with a small reflective break in the middle for Starting Over.
Of course the crowd demanded an encore, so they were back for totally nutty twisted fairytale song And We Danced, Irish Celebration, and another bite at Thrift Shop.
In the words of Macklemore "we danced, and we laughed, and had a really, really, really, good time."
- www.nzherald.co.nz