Psychedelic sounds in a dark atmosphere make Moon Duo gigs out of this world, writes Lydia Jenkin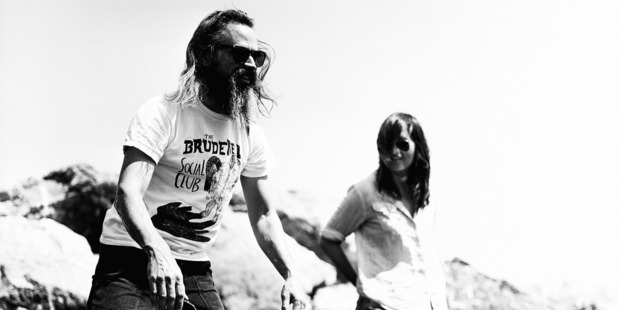 Back in 2009, Wooden Shjips (yes, it is spelt with a J) guitarist Ripley Johnson decided to form a side project duo with partner Sanae Yamada.
Their motivation came from wanting to tour as a slimmed-down unit, with an economically lighter load, meaning they could spend more time on the road. Wooden Shjips, a four-piece band out of San Francisco, were still going full steam ahead with their loose, psychedelic and atmospheric rock'n'roll sound, but Johnson also had enough creative ideas for a second project, and was interested in doing something a little more danceable and streamlined.
"They're similar," Ripley muses down the phone from Portland, where they're based, "but I think that Moon Duo probably has a more electronic feel. We use a drum machine, so rhythmically it's more electronic, but at the same time it has a similar improvisational element as Wooden Shjips."
Their second album, Circles, was released last year, and sees them cheekily taking pop or rock'n'roll song structures and melodies and deconstructing them with drones and noodly synth bits.
The notion of rock'n'roll is still intact, it's just been slightly submerged in what feels like a dark swimming pool filled with flashing fluoro lights, an underwater nightclub, if you will. Bright, but fuzzy. They like to make people dance at their live shows, with a set-up that has Johnson on the drum machine, both playing keyboards and adding extra guitar elements.
"We do try. We use a lot of visuals [which are created by Yamada], try to get the room dark, and try to create an immersive type of atmosphere and, hopefully, that helps to transport people, so they don't feel like they're just standing in a bar, and they can kind of lose themselves in the music."
The album was written during an extended period high in the mountains of Colorado, where the duo moved from the coastal climate of San Francisco, which Johnson explains had an indelible effect on the overall sound.
"I thought when we moved up there that it would be easy to be really loud because we wouldn't have any neighbours, no one around to complain, but it actually ended up that it was so quiet in the mountains that you don't really want to disturb it. Instead of being really loud, you want to be really quiet, even quieter than in the city, because it's so nice. It's really quite beautiful.
"It's very cold, but the altitude we were at, it was sunny nearly all the time, and when it wasn't sunny, it was snowing, so it was sort of like living in a snow globe. Everything is white, and the air is so crisp and clear, it's almost surreal. So I think it came through on the album.
"I wrote a lot on acoustic guitar, so there's a lot of strummy songs, and it ended up being a very bright record sonically."
Johnson was alone there for a couple of weeks when Yamada went on a meditation retreat. He immersed himself in books, finding inspiration in an essay by Ralph Waldo Emerson called Circles.
"I guess you end up looking inward a lot when you're left by yourself in the mountains, and that essay resonated with me, spending time in nature, and thinking about the seasons and the circular nature of existence, getting into all of that.
"So that was reflected in the lyrics - not so much the sound, because it sounds like rock'n'roll, but it was something that was in my mind at the time."
The pair have become skilled at creating their multi-layered sonic world, but Johnson admits it's still quite different to performing with a larger band.
"It is very different from playing in a band, where you don't have to shoulder all of the weight - if one of us makes a mistake or has a technical problem, that's half the band down, struggling with something, which can be a little nerve-wracking. But hopefully, as long as our gear is in working order, we usually don't find it too complicated. It keeps us on our toes, though."
Who: Moon Duo, the latest project from Wooden Shjips guitarist Ripley Johnson
When and where: Performing at the King Arms, Friday, March 1
- TimeOut