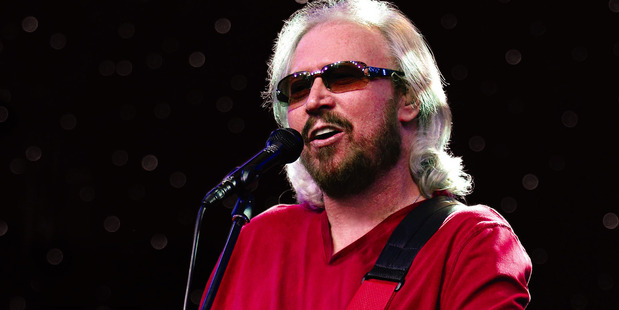 "It's been lots of fun so far," Barry Gibb said after arriving in Napier last night.
"And I'm really looking forward to this one."
"This one" being Saturday night's big Mission Concert which will see the sole surviving Bee Gee put everything into his only New Zealand performance of the acclaimed Mythology tour which has seen him perform to sell-out crowds in Sydney, Melbourne and Brisbane.
He said he wanted to kick off the tribute to his late brothers Andy, Maurice and Robin Down Under - in Australia where he and twins Maurice and Robin kicked off their remarkable career as the Bee Gees.
So skipping over to New Zealand, a country he said he has always loved, was a simple decision.
The Bee Gees last played in Auckland together in 1999.
"But this is my first time in Hawke's Bay," he said after clearing Customs with about a dozen family members and friends at the Napier base for his personal Global jet at Skyline Aviation just after 7pm.
"Seeing it from the air as we came in, it looks beautiful."
He said he had been looking up things about the Bay "learning about this great place" and he was looking forward to finding out more during the next two days before the concert.
"Yeah, we'll have a good look around," Mr Gibb said.
Part of that looking around was likely to include a traditional Maori welcome which was being staged for him at a private venue later today.
He is looking forward to it as the Bee Gees in their early years played alongside and got to know many of the New Zealand Maori show bands which based themselves in Australia.
"We got to know them all ... and I remember Prince Tui Teka very well ... great days," Mr Gibb recalled.
He was delighted to hear that Mission Concert audiences traditionally sing along to the well-known songs - and he is going to roll out plenty.
The concerts had been an emotional journey for Mr Gibb, who said he could feel his late brothers with him when he got on stage, noting: "I see them when I'm out there."
He said losing his brothers was something he was still learning to cope with.
"And doing this [the concert tour] is the only way to face it."
The success of the tour so far had convinced him that taking it further, to the rest of the world, was quite likely.
"I think we'll tour it through the States first, then go from there," Mr Gibb said.
But Australia, and Hawke's Bay in New Zealand, were always going to get the Bee Gees magic first.
"It's great to be here."
For more articles from this region, go to Hawkes Bay Today