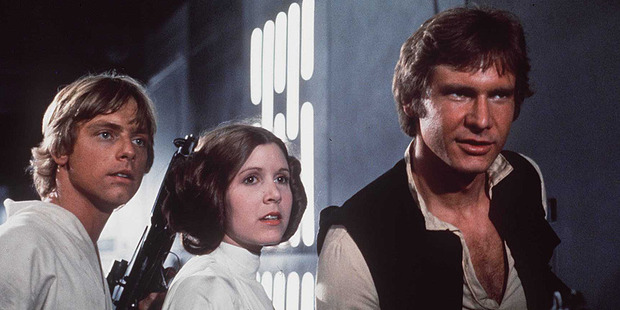 And so the Star Wars speculation continues apace.
Earlier this week, we got word that Harrison Ford will reportedly reprise his role as Han Solo in the upcoming trilogy, and now all eyes are on whether legendary composer John Williams will make a return to the franchise.
According to a fresh report, Williams, who won an Oscar for his iconic theme music to the original 1977 Star Wars, has revealed he is keen to score the upcoming movies.
At a recent concert in Los Angeles, the 81-year-old composer, who provided the theme music for all six of the previous Star Wars films, paused to speak about his association with the franchise, before conducting the classic theme.
"We're about to play Star Wars and each time we play it, I'm reminded of the first time we played it decades ago," Total Film (via JWFan) quotes him as saying at the event.
"Neither I, nor George [Lucas], nor anyone else involved thought this would go far or in a few years there would be a sequel and I'd have to revisit the themes... and years later another trilogy.
"Now we're hearing of a new set of movies coming in 2015, 2016... so I need to make sure I'm still ready to go in a few years for what I hope would be continued work with George."
Lucas recently shared that his involvement in the making of Star Wars: Episode VII, directed by J.J. Abrams, and based on a script written by Little Miss Sunshine scribe Michael Arndt, will be limited.
"[If the filmmakers ask], 'Who's this guy?' I can tell them," he revealed. "I mean, they have a hundred encyclopaedias and things, but I actually know a lot. I can say, 'This is this and this is that.'"
Lucas added: "Basically I'm not - I don't really have much to do."
ComingSoon.com also notes that Abrams has a long history of hiring composer Michael Giacchino for his TV and movie projects.
So, at this stage, only time will tell if the composer will be making a return trip to that galaxy far, far away. But it would be a struggle to imagine any Star Wars film without Williams behind the podium, surely?
Star Wars: Episode VII is tentatively set to arrive in cinemas in 2015.
Meanwhile, as noted above, it was reported on Saturday that Ford's reprisal of his Han Solo role in the forthcoming Star Wars sequels is a "done deal".
According to Latino Review scooper Umberto "El Mayimbe" Gonzalez, the 70-year-old actor is "officially" on board.
"Harrison Ford will reprise his role as Han Solo in the upcoming Star Wars movies. It's huge. It hasn't been reported anywhere yet. He's officially coming back as Han Solo," he said during an appearance on Fox News Latino.
Gonzalez claimed he had "triple checked" his "legitimate sources", but was unable to confirm whether the actor's role in the series will be a major one or a cameo.
Blogger Roger Friedman of showbiz411.com concurred with Gonzalez that Ford would be making a return.
"I was told some time ago that Ford, Carrie Fisher, and Mark Hamill would be reprising their roles in Episode &, Obviously this new movie won't pick up where Return of the Jedi ended. It's some time in the future.
He continued, claiming to have some plot details "Han, Princess Leia (with a presumably better hairstyle), and Luke Skywalker will be a lot older. Their children will be the new main characters."
Adding, "But suffice to say, the three main actors are definitely coming back."
But according to EW.com writer Geoff Boucher, Ford has yet to ink a deal.
"Harrison Ford deal? My source says not yet," he shared on Twitter. "It will not be for weeks and perhaps months."
He later added: "I think it's going to happen but they are a few steps shy of signing contracts stage."
And the Force is still strong with Ewan McGregor.
The actor, who starred as a younger Obi-Wan Kenobi in the prequel trilogy, has said that he'd be interested in reprising his role in a Star Wars spin-off film.
"I think it's a good idea," McGregor told MTV News, adding: "The only bit that I could get away with doing is after the last one I made, Episode III, before Alec Guinness, there's that period where he's in the desert.
"That might be my window, there, to tell that story. I don't know what he did in the desert. We could make up some stuff."
He added, "I'd be up for it. Could be quite exciting. I'd be up for it, for sure, of course."
Check out McGregor's interview below:
Stay tuned for further updates...
FAST GOSSIP
And finally...
* Taylor Swift sued over cancelled concert.
* Madonna's grief for DJ Mark Kamins, the man who helped launch her career.
* Knox Jolie-Pitt is starting to look more and more like Brad Pitt's Mini-Me.
* Photoshop fail: Sarah Jessica Parker looks decidedly out of this world on the cover of Harper's Bazaar China. Pack your bags, SJP, the mothership is coming.
* Renée Zellweger and her fella pack on the PDA in Hawaii.
* More details emerge in country singer Mindy McCready's death.
* Letters written by John Lennon's killer up for sale.
* Author Camille Paglia thinks Rihanna is the new Princess Diana.
* Crouching Tiger, Hidden Dragon sequel in the works.
* Oh Boy! Check out pop star George's incredible weight loss.
* Actor Forest Whitaker gets apology from NYC deli over theft accusation.
* Listen: Mariah Carey debuts new single Almost Home from Disney's Oz The Great and Powerful
Follow Myrddin Gwynedd on Twitter.
- Rumour Has It