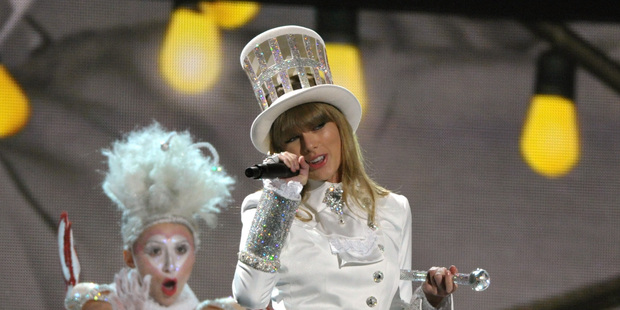 You can cross one major trophy off the list for fun. at the Grammy Awards.
The pop-rockers won song of the year for their transcendent anthem, We Are Young, featuring Janelle Monae, during Sunday night's telecast, taking the first of four major awards the group's been nominated.
"I don't know what I was thinking when I wrote the chorus to this song," lead singer Nate Ruess joked. "This is in HD, everyone can see our faces, and we are not very young."
Most of the attention has been on Frank Ocean going into the awards - he won a trophy for urban contemporary album and is up for four more trophies during the telecast. But his fellow lead nominees got an early lead on the R&B singer.
We Are Young helped fun. earn a starring role at these Grammys with nominations in all four major categories after the release of their first album, matched only by Christopher Cross in 1981, and six overall. The band turned in a powerful early performance of Carry On early in the show as a downpour on stage began mid-song and guitarist Jack Antonoff got a kiss from girlfriend Lena Dunham of Girls fame after winning.
Fun. may have picked up a major win, but it was The Black Keys and Skrillex who had the early lead thanks to strong runs in the pre-telecast awards show.
The Black Keys singer-guitarist Dan Auerbach took the early lead during the pre-telecast show, picking up three trophies and assisting with a fourth. Auerbach won Producer of the Year Alone and Best Rock Song for Lonely Boy and rock album for El Camino with his bandmate Patrick Carney, joining electronic dance music innovator Skrillex atop the early leaderboard. He was also producer for another winner, Dr. John.
A slew of artists sit one back going into the main awards show at the Staples Center, including fellow top nominees Kanye West and Jay-Z, Australia's Gotye, former best new artist winner Esperanza Spalding, jazz man Chick Corea and Christian singer-songwriter Matt Redman.
West and Jay-Z won best rap song and best rap performance for the song Ni**as in Paris from their Watch the Throne collaboration and lost a third for short form video for No Church in The Wild, which featured Ocean. Ocean will be up for five awards later in the evening.
Other early winners included Rihanna, Beyonce, Mumford & Sons and Taylor Swift, who opened the show as the Mad Hatter. Swift dressed in white top hat, tails, shorts and tall boots during the surreal version of her hummable hit We Are Never Ever Getting Back Together that included a troop of mime clowns and a guy on a tricycle with a flame-thrower attached.
The singer pretended to talk to the offending boyfriend on the phone: "I'm busy opening the Grammys and we're never getting back together."
Justin Timberlake debuted new tracks Suit & Tie with Jay-Z and Pusher Love Girl in a performance that was broadcast in retro black and white. Elton John and Ed Sheeran teamed on The A Team and Miguel and Wiz Kalifa teamed up on Adorn.
Adele won the first award of the night on the main telecast, taking home best pop solo performance for Set Fire to the Rain (Live), in one of the night's least-surprising moments - though the singer was somewhat taken aback.
"I just wanted to be part of the night, because I loved it last year, obviously," she said of winning a record-tying six awards in 2012.
Carrie Underwood won best country solo performance for Blown Away.
The Grammy pre-telecast awards show at the Nokia Theatre had 70 trophies up for grabs, including rock, pop, rap and country categories.
Skrillex won best dance recording for Bangarang, featuring Sirah, best dance/electronica album for Bangarang and best remixed recording a year after winning those same awards in his first appearance at the Grammys.
Gotye won Best Alternative Album for Making Mirrors and Best Pop/Duo Performance for Somebody That I Used To Know, featuring Kimbra.
Winners in selected major categories at the 55th Annual Grammy Awards:
- Pop/duo group performance: Somebody That I Used to Know, Gotye featuring Kimbra.
- Traditional pop vocal album: Kisses on the Bottom, Paul McCartney.
- Rap performance: Ni**as in Paris, Jay-Z, Kanye West.
- Rap song: Ni**as in Paris, Shawn Carter, Mike Dean, Chauncey Hollis, Kanye West.
- Rap album: Take Care, Drake.
- R&B performance: Climax, Usher.
- Traditional R&B performance: Love on Top, Beyonce.
- R&B song: Adorn, Miguel Pimentel.
- R&B album: Black Radio, Robert Glasper Experiment.
- Rock song: Lonely Boy, The Black Keys.
- Rock album: El Camino, The Black Keys.
- Hard rock/metal performance: Love Bites (So Do I), Halestorm.
- Alternative music album: Making Mirrors, Gotye.
- Dance recording: Bangarang, Skrillex featuring Sirah.
- Dance/electronica album: Bangarang, Skrillex.
- Country duo/group performance: Pontoon, Little Big Town.
- Folk album: The Goat Rodeo Sessions, Yo-Yo Ma, Stuart Duncan, Edgar Meyer, Chris Thile.
- Reggae album: Rebirth, Jimmy Cliff.
- Pop instrumental album: Impressions, Chris Botti.
- Compilation soundtrack album: Midnight in Paris, various artists.
- Score soundtrack album: The Girl With the Dragon Tattoo, Trent Reznor, Atticus Ross.
- Song written for visual media: Safe & Sound (from The Hunger Games), Taylor Swift, John Paul White, Joy Williams.
- Musical theatre album: Once: A New Musical, Steve Kazee, Cristin Milioti.
- Producer of the year, classical: Blanton Alspaugh.
- Producer of the year, non-classical: Dan Auerbach.
- Short-form music video: We Found Love, Rihanna featuring Calvin Harris.
- Long-form music video: Big Easy Express, Mumford & Sons.
- AP