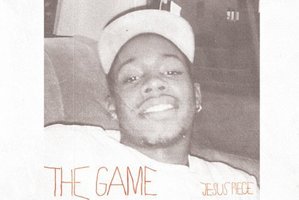 "Please Lord forgive me," pleads The Game early on his fifth album. It's an odd request from one of gangsta rap's leading figures, especially when his previous four albums have been full of murderous threats and vicious insults. Don't worry, The Game hasn't found God, but Jesus Piece - the under-rated follow-up to 2011's disappointing The RED Album - is a concept album that shows a different side to the Compton rapper, who is in a reflective, introspective mood.
"Think I'm destined for hell, oh well," is how he opens the mournful soul of See No Evil, which features a stunning guest turn from man-of-the-moment Kendrick Lamar. Yes, there's plenty of religious imagery included over the Dr Dre-sanctioned beats: Check out the thumping trap chants of Ali Bomaye, the sinister soul samples of the title track, the spiralling choirs and church bells that infuse Name Me King and Church, and the bonus cut Holy Water, a ghostly stunner which might be the best thing The Game has released. Everyone from Kanye West to Common, Lil Wayne and Pusha T show up, but the guests never outshine The Game's gruff, authoritative flow.
It's taken a few albums, but it looks like someone finally found their A-game.
Stars: 4/5
Verdict: Compton rapper heads to church on fifth record
Buy Jesus Piece by The Game here.
- TimeOut