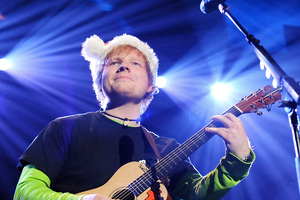 Sir Elton John and Ed Sheeran will perform together at the Grammy Awards in Los Angeles next month.
The two Brits have long admired each other's work but have never sung onstage together - until now.
Sir Elton and Sheeran will be among the stars teaming up for duets at music's big night on February 10.
Miranda Lambert and Dierks Bentley will also perform together, although details of their country collaboration remain a closely guarded secret.
Taylor Swift, Carrie Underwood, Jack White and The Black Keys have also confirmed they'll be performing at the Grammy ceremony, which will be hosted by rapper/actor LL Cool J.
- WENN