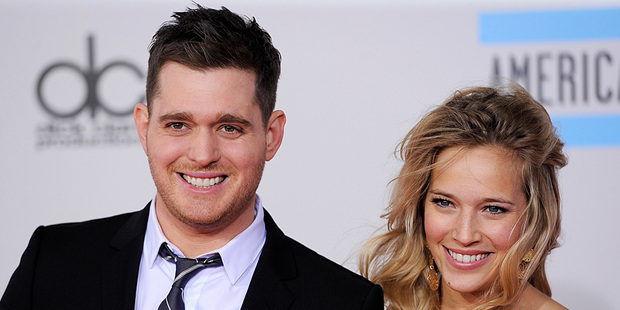 Michael Bublé and his wife have announced they are expecting their first child.
The Canadian crooner's wife, Argentine actress and model Luisana Lopilato, 25, announced the news in a video message on her official website today, with a note that read: "Me and Mike have big news for you!"
The 22-second clip opens with the words "Mike, Lu...and mini Bublé!!!" before cutting to an ultrasound image and a snap of the couple kissing. It ends with the words "We are having a mini Buble!!!"
Bublé, 37, and Lopilato got engaged in November 2009, and married in March 2011.
The Haven't Met You Yet singer previously said he was keen to start a family as soon as his wife was on board.
"I've said to [Luisana] a million times I'd love to have kids," Bublé told ET Canada.
"But I always say to her when you're ready - when you feel like you've lived and you've partied and done all the things you want to do. When you've worked your butt off, then tell me."
He added: "All my friends have babies so every time one of them says, 'Guess what, you're going to be an uncle,' part of me is so happy for them and the other part of me is jealous."
Bublé also shared in a 2011 interview: "We hope to be pregnant by next Christmas. And it makes me really excited to think about all the practicing we can do."
Check out the announcement video below:
Congratulations to them both!
FAST GOSSIP
And finally...
* Justin Bieber denies jeering at fan in the gym.
* Watch: The much-hyped clash between Nicki Minaj and Mariah Carey on American Idol finally airs.
* James Franco talks gay rumours.
* Taylor Swift poses as Rapunzel in new Disney ad.
* "It was the worst time in my life" - Jennifer Lopez on her split from Marc Anthony.
* And so the Beyonce lip-synch scandal trundles on.
* Shakira's boyfriend posts first baby pic.
* "I'm angry she died alone" - Whitney Houston's mother opens up about singer's death.
* Star Wars star Hayden Christensen and his grizzly beard. Hell no.
* Lindsay Lohan movie rejected by SXSW festival over "quality issues".
Follow Myrddin Gwynedd on Twitter.
- Rumour Has It