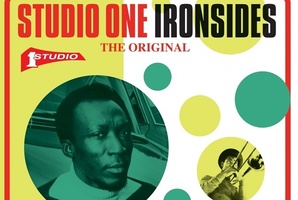 Usually the Soul Jazz compilations that mine the vaults of Jamaica's famous Studio One label are non-stop killer, and although this latest instalment is a little more hit or miss it's almost worth having for Pablove Black's Jamrec Dub alone.
It's a jaunty, soulful and rickety reggae tune but what makes it so startlingly unique is the rough and percussive keyboard part. It's a gem among these 18 tracks, comprising classic cuts from usual suspects like Freddie McGregor and Marcia Griffiths as well as rarities from the 1960s and 70s, spanning all genres from roots and rocksteady to dub and dancehall.
The "Ironsides" name of this collection comes from one of the many secondary labels Studio One founder Coxsone Dodd set up to release records, after radio DJs in Jamaica became increasingly wary of playing too much music from his prolific Studio One stable. It was his way of trying to trick them.
Other highlights are the Gladiators' Bongo Red, the original 1968 version of Mixed Up, the first song off 1978's Trench Town Mix Up, The Paragons' skanking and crooning hit Danger In Your Eyes, and Dennis Alcapone's Joe Frazier, a minimal yet muscular tune about the heavyweight champion.
Ironsides is not a must-have, but it's still worth checking out.
Stars: 3.5/5
Verdict: Even more classic cuts from Jamaica's most famous label
- TimeOut