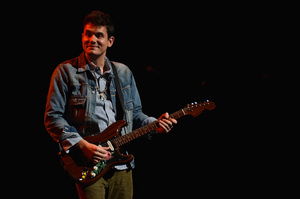 The 35-year-old singer - who has not performed since having throat surgery over a year ago - made a surprise appearance earlier this week at the Livingston Town Proper benefit concert in Montana, in aid of firefighters that saved his home and others from a summer wildfire.
The sold-out event raised more than $100,000, and John's first song of the night was 'If I Ever Get Around to Living'.
He tweeted a picture of himself singing 'Speak For Me', with the message: "And we're back."
The Pine Creek fire raged across Paradise Valley last summer but John was in Los Angeles at the time and said he felt guilty talking to the people who raced to clear out his things.
He said: "It's my house. I want to help save it. I want to be the guy on the front porch with a bucket of water."
After his house was saved, John - who is dating Katy Perry - vowed to help the residents of Paradise Valley.
The concert also featured performances by Zach Brown and Clay Cook of the Zac Brown Band, and John's current band members David Ryan Harris, Sean Hurley and Aaron Sterling.
- BANG! Showbiz