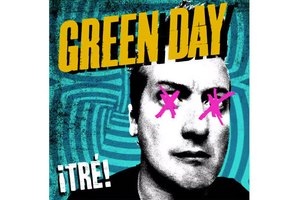 Yes, the final instalment of Green Day's album trilogy was released at the end of last year, after the release date was brought forward a month to ease the blow of the band's world tour debacle due to frontman Billie Joe Armstrong's stint in rehab. So our apologies for the lateness. But considering TimeOut had already reviewed two Green Day albums in 2012, we thought there was no harm in leaving it a month.
And to be honest, though there are some great tracks here, it is - perhaps predictably - a hit and miss affair. Although you have to admire Green Day's ambition, and Armstrong's prolific songwriting (though it makes you wonder what this intensity had to do with his stay in rehab). But bog-standard offerings like Missing You and the sweet but dull acoustic refrain of Drama Queen make you wonder if three albums in three months was too keen.
In hindsight, the best of Uno, Dos, and Tre would have made a cracking good double album. And the best tracks to be included from this latest release would have been the romantic riffing and melodic serenade of X-Kid and the multi-part frenzy of Dirty Rotten Bastards, which is similar, though not as riveting, as Jesus of Suburbia from American Idiot.
Now for that long-awaited tour announcement.
Stars: 3/5
Verdict: Part quality, part leftovers
Click here to buy a copy of Green Day's Tre
- TimeOut