Scott Kara talks to author Mick Wall about the personalities behind rock's biggest stars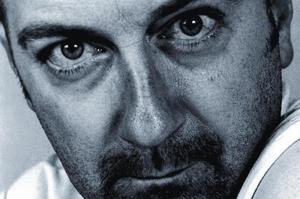 Rock 'n' roll author Mick Wall doesn't mind telling you what he thinks of some of the world's greatest music stars.
Led Zeppelin's Robert Plant is "a completely self-absorbed fantasist", while bass player John Paul Jones is one of the most "boring" people around, and as for guitarist Jimmy Page ... well, let's not go there.
Put it this way, writing the 2008 Led Zeppelin book, When Giants Walked the Earth cost Wall his friendship with Page. "But it was worth it," he says, "because the book wasn't written for him, it was written for the people who bought the book."
And when Wall sat down to write Metallica's story, which is recounted in the excellent, Enter the Night, from a few years ago, one of his main objectives was to point out "what a shit drummer" outspoken sticksman Lars Urlich is. "He knows it, too. Whenever he rings me he goes, 'hey, it's your favourite drummer'," groans Wall on the phone from his home in Oxfordshire.
In his latest rock 'n' roll tome, Hell Ain't a Bad Place to Be, about the money-making machine that is legendary heavy rock band AC/DC, he's typically critical and questioning, especially of band lynchpins the Young brothers, Malcolm (the rhythm guitarist and boss) and Angus (his younger brother and school uniform-wearing lead guitarist).
Wall, a music writer since the late 70s and the founding editor of Classic Rock magazine in the 90s, makes it clear at the beginning of the book that he tried many avenues - including email, old school snail mail, and phone calls - to get the Youngs to talk to him for the book but heard nothing. Not even a "no".
And that's the way AC/DC operate, reckons Wall, who, it has to be said, can come across abrasive and a tad cynical of the music business. But there is no denying the guy's passion, not just for music, but telling a ripping and informed yarn. "That no response from AC/DC tells you everything you need to know about them. That's what you get from them. Nothing. Unless you are on their radar and these days a book like this is not on their radar.
"They don't care. Even the people who work for them. They've fired anybody who ever meant anything in their system, anybody who ever did really good things for them."
Which might sound a bit harsh on the band behind some of heavy rock's greatest songs, like Dirty Deeds Done Dirt Cheap, Highway to Hell and Back in Black, but Wall has done his research and the 418 pages of detailed, warts and all revelations are proof of that.
Turns out, the Youngs not looking over his shoulder and wanting copy approval was a blessing in disguise. It meant he was free to explore - and dig the dirt if you like - on one of the world's biggest and most enduring bands. "It freed me up, and it was a more freeing experience than any of my other ones, because I knew very little about them beforehand as I didn't have that deep long standing involvement that I'd had with Metallica and Led Zeppelin."
Among other revelations he offers his theory about the death of iconic lead singer, Bon Scott - a bruiser of a man who lived life on the edge, but still the sort of guy who'd be good to have a beer with (until he starts fighting that is, because Scott was a fighter).
You get the feeling Wall liked the singer, who he had known briefly before he died in London on February 19, 1980 aged 33. "He was a fantastic frontman. Especially considering he had Angus to contend with on stage too," says Wall.
The common story behind his death was that he drank himself into oblivion. But, resolves Wall, and to cut a long story short, it was heroin that did it.
"His death wasn't that widely reported at the time. It was big news in Australia, but over here it wasn't a big thing. But what always got my goat, in the few books that have come out since, and the various articles, or Behind the Music they always stick to the orthodox story, which really didn't ask any questions of it at all.
"That story is based on one coroner's report and, in this country, coroners act almost entirely on discretion, they're not there to do a thorough examination, they are there to move things along. As far as this guy was concerned, this wasn't a famous pop star who had a mysterious death, this was a marginally well known foreign musician who was a drunk and he [the coroner] had no particular motive to look any further than that. No one was saying, 'We think this is suspicious, do you mind checking for drugs?' He just returned the obvious verdict."
But in the late 70s Wall also knew Margaret "Silver" Smith, an old girlfriend of Scott's from Australia turned heroin dealer in London, and in the book he retraces the sad but fascinating events that ultimately led to Scott passing out in the back of his friend Alistair Kinnear's car after a night out, and being pronounced dead on arrival at hospital.
Wall is not pointing the finger at Silver, or any one else for influencing Scott's death, because the singer was in a particularly self-destructive mind-frame following 1979's Highway to Hell tour. However, he does - surprise, surprise - fire a shot at the band. "I think AC/DC were well aware of the other possibilities [surrounding his death], but it wasn't in their interests to pursue it. They, as always, were about their own self preservation."
Which gets him back to the behemoth that is AC/DC.
"One of the interesting things about them is the way Malcolm is surrounded by 'yes' men, because even Angus answers to Malcolm."
Wall says bassist Cliff Williams pretty much does as he's told, and Scott's replacement, husky growler Brian Johnson has tried leaving the band many times but is always lured back by the money.
"AC/DC are great," offers Wall, in a moment of admiration, "but let's be honest, and anyone who's seen the Who, or the Rolling Stones or any of these groups in the last five years, they aren't what they were 30 years ago."
Which is why the book pretty much stops at 1990, when they released Razor's Edge (the Thunderstruck album). "They are [now] churning out formulaic test-tube baby albums. It's the idea of AC/DC, that's what exists in our minds these days."
Who: Mick Wall, rock 'n' roll author
Out now: AC/DC: Hell Ain't A Bad Place To Be
Also read: When Giants Walked The Earth (Led Zeppelin), Enter The Night (Metallica)
- TimeOut