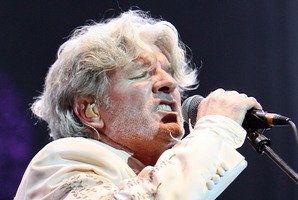 A new three-day music festival featuring Australian and New Zealand acts including Kiwi music legend Tim Finn has been announced for Rotorua.
The inaugural Okere Falls Festival is a three-day event planned for January 25 to 27 at the Okere Falls Store featuring a line-up of national and international artists such as Finn (from Split Enz and Crowded House), Maisey Rika, David Bridie (of Not Drowning, Waving and My Friend The Chocolate Cake), Minnie Marks, The Bads, The Kryptonites, Alice Ecila and Aaron Saxon.
The festival will also feature locals Swamp Thing with Michael Barker from the John Butler Trio.
Tickets for the festival, which will run between 4pm and 10pm each night, are available at the Okere Falls Store and the Library Store.
One of the organisers, Michael Barker, said he and fellow organiser Sarah Ruhl from the Okere Falls Store wanted the festival to be an annual event.
They created it to allow people to enjoy themselves, let their hair down and have a great time while listening to singer/songwriter musicians in Rotorua.
He said reggae and hip hop musicians were well catered for in Rotorua but he wanted to provide another outlet for the singer/songwriter type of musicians, whom he expected to do well in the city.
"What we really hope is that people come out and support the artists and have a good time," Barker said.
He said Okere Falls was a great area to have the festival and if it got too big in the future, it would remain in the area.
"I think if the festival grows some legs it may grow into a paddock nearby ... there are untold great spots," he said.
"We may look to extend that and make it an all-day event.
"I've played my fair share of festivals and really like to be able to bring something to this area with the experience that I have," he said.
Finn was looking forward to being part of the Okere Falls Festival and said knowing that Barker, whom he had worked with on numerous occasions, was organising the festival made it an easy decision to agree to be involved.
"It'll just be a fun time, I like the way that it is starting off as a festival."
Finn said he would perform his solo work as well as his hits with Split Enz. He said he supported the concept of a festival that showcased songwriters and expected the event to grow in coming years.
While in Rotorua he planned to enjoy some of the city's activities and also check out some of the other artists who were part of the line-up over the three days.
He was particularly looking forward to seeing Rika, Swamp Thing, David Bridie and The Bads.
"I really want to see Maisey ... she's an incredible singer."
Ticket prices are $50 for the Friday, $60 for the Saturday and $40 for the Sunday. A three-day pass will cost $140.
For more articles from this region, go to Rotorua Daily Post