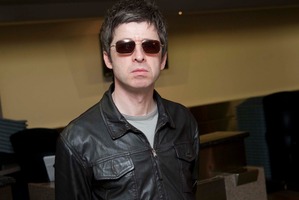 Noel Gallagher claimed she wouldn't last and said he felt sorry for her.
Now it's Adele's turn to offer sympathies to the former Oasis guitarist and chief songwriter, with her second album overtaking the mouthy Mancunian's second record to become the fourth-biggest-selling album in British chart history.
The 24-year-old Tottenham singer's album, 21, has now sold in excess of 4,562,000 copies in Britain, according to the Official Charts Company, moving ahead of (What's the Story) Morning Glory? released by Oasis in 1995.
Sgt Pepper's Lonely Hearts Club Band by The Beatles remains the only original studio album ahead of 21 in the sales table, sandwiched in second place between compilation albums by Abba and Queen. It overtook Michael Jackson's Thriller earlier this year, having already surpassed Dire Straits' Brothers In Arms and Pink Floyd's Dark Side of the Moon.
It was less than a year ago that the elder of the two Gallagher brothers declared that Adele would be quickly forgotten.
"I feel sorry for girls in the music industry," he said in a newspaper interview in February. "They do have a very short shelf life. For instance, Duffy: who? Gone. She was massive. And I don't doubt for a second that the same thing will happen to Adele."
Gallagher had earlier claimed to have not heard 21, adding that he had "no desire" to listen to it and knew nobody who had bought it.
But with a James Bond song to her name - albeit, in Skyfall, one that has received tepid reviews and failed to break the franchise's curse of never securing a British No 1 - still Adele marches on.
It is likely 21 will finish as the second-biggest-selling album of 2012 despite being released almost two years ago, coming behind only Emeli Sande's Our Version of Events - and in the US it was the most downloaded album on iTunes for the second year running.
Her ubiquitous hit Someone Like You was named as the most popular song choice among users of the Lucky Voice karaoke website in the last 12 months.
In an age of dwindling physical album sales in the face of the ever-increasing popularity of downloads, Adele has proved a rare source of reliable income for record shops, with high street chain HMV announcing that it had sold its one millionth copy of 21 over Christmas.
HMV's chart manager, John Hirst, said: "It's incredible to think that even with relatively little promotion this year, 21 continues to sell as well as it does. The album has become a classic that a lot of people clearly feel they should have in their record collection."
It is not universally popular, however - the website musicMagpie reported that 47,315 Christmas gifts of 21 had been traded in online, the most of any album.
Adele, who gave birth to her first child in October, is reported to be working on new material but no date for an album release in 2013 has yet been scheduled.
- Independent