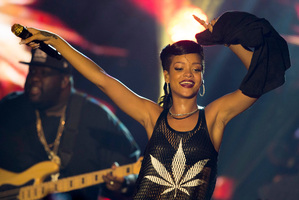 Police were called to a house in Barbados where Rihanna is staying after a man was found trespassing on the property.
The Diamond singer is renting a beach front property in her native country to celebrate the festive season with her family but her staff became alarmed after a man - believed to be a German national - wandered on to the grounds.
He was gone by the time police responded to the call and the singer was not believed to have been in danger at any time but law enforcement officials still want to speak to him, according to gossip website TMZ.
The frightening incident comes just after Rihanna, 24, donated $1.75 million to a Barbados hospital in memory of her late grandmother Dolly.
Rihanna was devastated when her beloved granny Clara 'Dolly' Braithwaite lost her cancer battle in June 2012 and visited the radiotherapy department at Queen Elizabeth Hospital in Bridgetown, which is to be renamed the Clara Braithwaite Centre for Oncology and Nuclear Medicine, on Saturday to make the generous donation.
She said: "This was my way of giving back to Barbados, in a form of philanthropy, by assisting the QEH...I believe that this will have a huge impact on the people of Barbados. This was all done to save lives or at least extend them."
- Bang! Showbiz