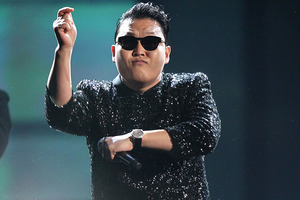 YouTube has released its top 10 viral videos of 2012.
South Korean rapper Psy gained the number one spot with the video for his global hit Gangnam Style.
It recently became the most viewed YouTube video of all time, surpassing Baby by Justin Bieber.
The pop superstar isn't worried, still making an appearance in this year's top 10 in the video for Carly Rae Jepsen's song Call Me Maybe.
He is joined on the list by African warlord Kony, a man who parachuted to Earth from space, rap battling Barack Obama and Mitt Romney, five people playing one guitar and the crazy Dad who shot his daughter's computer.
1. Gangnam Style - Psy
2. Somebody That I Used To Know cover - Walk Off The Earth
3. Kony 2012 - Invisible Children
4. Call Me Maybe - Carly Rae Jepsen and Justin Bieber
5. Barack Obama vs Mitt Romney. Epic rap battles of history - ERB
6. A dramatic suprise on a quiet square - TNT Belgium
7. Why you asking all them questions? - Emmanuel Hudson and SpokenReasons
8. Dubstep Violin - Lindsey Stirling
9. Facebook parenting: For the troubled teen - Tommy Jordan
10. Felix Baumgartner's supersonic freefall - Redbull