Paul Charman talks to two men with enviable jobs - a guitar maker who serves elite musicians and a sailor who crews aboard superyachts.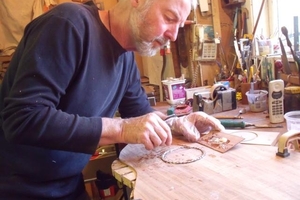 His handcrafted Weissenborn-style guitars and other acoustic instruments get played around the world, some by famous musicians. Instrument maker Paddy Burgin has the chops to play them well too, working concurrently in several Wellington bands.
The multi-instrumentalist does session work, writes and records his own material and markets his output over the internet. He brings it all together in a workshop attached to his Wellington home.
Here the 59-year-old measures, saws and glues, monitors National Radio and listens to a wide range of recorded music, including his own. And he regularly downs tools to strum a few chords or scribble some lyrics.
But the workshop is no man cave. Paddy's children wander in at any time, for example, with a toy to be fixed. So if he wants uninterrupted time to, say, finish a guitar order headed for Europe, or the United States, he gets to work before sunrise.
"I love making instruments but it's not all fun," says the man who builds guitars for the likes of Hunters & Collectors frontman Mark Seymour and David Lindley (who has toured with artists such as Jackson Brown, Dolly Parton and Ry Cooder).
"They're hard things to make, with maybe 100 parts to put together and tolerances in the thousandths of an inch. Many instrument makers work on their own and there's a high risk of becoming dysfunctional, alienated, obsessive and compulsive. I can balance this with family time upstairs or playing music with other people."
Paddy grew up on a farm at Swannanoa, near Christchurch. His dad was a resourceful type, whose homemade gadgets included a dual transmission truck and an electric steel guitar.
The young Burgin's other great influence came in his late teens, when he trained as a journalist at Wellington Polytechnic.
Lecturers included literary greats Dame Christine Cole Catley, Michael King and others. Paddy credits exposure to them, especially to Michael King, with instilling a lifelong passion for telling New Zealand stories.
"My bias is still to write songs of this country, though a great song will always resonate with all people wherever they are."
While working as a radio journalist, Paddy discovered a talent for making furniture. During the 80s and early 90s he and others gathered native timbers from Wellington demolition sites, turning them into all kinds of furniture.
His furniture business became so popular that he began working part time on radio, eventually quitting altogether. Then the idea of making instruments took hold. Paddy trained with an instrument maker in Canada, made a wide range of stock and advertised it by giving out cards to musicians, or buttonholing people carrying guitar cases in the street.
His career only took off when he began marketing on the internet, and now he sells nine out of 10 instruments overseas. The long list of professional musicians who use his guitars includes some who plug them to concert audiences round the world.
"That's the best advertising - it always seems to lead to orders."
With more than a decade working aboard superyachts, Gavin McPherson has words of caution for anyone viewing the vocation as all perks and travel.
The 36-year-old is quick to agree working aboard superyachts can be a wonderful experience for many a young Kiwi, "but always provided they have the right attitude, skill base and a keen eye for detail".
McPherson is first mate aboard Thalia, a 49m private yacht often moored at Auckland's Viaduct Basin. Crewing aboard the classic yacht requires skill with a brush and tin of varnish as much as it does trimming sails and plotting courses. And that's not the only cause to be versatile.
"I'll work as a plumber down in the bilges and the next day be aloft, sorting out an issue with rigging and always with a lot of cleaning mixed in," says Gavin.
Those wishing to make their mark in the industry also need great people skills, ensuring a high standard of hospitality for owner and guests. Crew must be diligent in maintenance, working to higher standards of presentation than anywhere else in the industry. And they must be superb sailors, ensuring their employer's valuable craft arrives safely with passengers having enjoyed their voyage.
Though Gavin and his brother were raised on a farm near Matamata, their dad taught them to sail in a Sunburst dinghy on Tauranga Harbour during holidays.
He took to sailing, gaining a competitive edge at high school in Hamilton, sailing on the city's lake. On leaving school he shifted to Auckland, winning national titles and immersing himself in the marine community.
In 2002, after competing in the ISAF World Sailing Championships in France, he remained in Europe to follow the regatta calendar. With savings running out, he landed a permanent crewing job on a new superyacht through a Kiwi friend who gave him the connection. Ranger is a J Class superyacht, a replica of one of the racing yachts used for America's Cup in the 1930s. McPherson enjoyed being one of the eight fulltime crew on the 41m craft, taking care of maintenance, sails and rigging and racing with up to 36 crew.
Over the next few years there followed a succession of postings aboard superyachts and Maxi race boats.
For example, he was a member of the race crew aboard Neville Crichton's Alfa Romeo, working with top sailors from the Volvo Ocean Race and America's Cup. They blitzed many regattas and set records in the Mediterranean, and then went on to the Transpac Race from Los Angeles to Hawaii, breaking the old record by more than a day. Alfa Romeo then set the new record in New Zealand's Coastal Classic and went on to win the notorious Sydney to Hobart race.
Having sailed almost continually from 2002 until 2010, he was happy to return to Auckland to escape the nomadic lifestyle and then to join Thalia which, despite being a regular at the Viaduct, has voyaged to Australia, the Pacific Islands and Asia.
"In this industry Kiwis are respected for their versatility, sailing ability, good eye, and easy-going nature. The job suits some as a kind of extension to their OE for a couple of years, while some of us definitely see it as a career."