Devo frontman Jerry Casale talks to Russell Baillie about 40 years of having fun.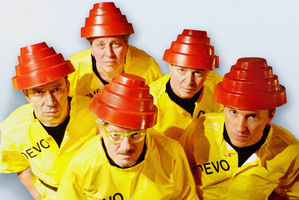 It might seem incongruous: Devo, 40 years after forming, 30 years after their heyday - and their last New Zealand tour - breaking out those yellow suits and red flowerpot helmets and playing their herky jerky Reagan era hits in an Auckland vineyard.
Founder Jerry Casale doesn't think so. For one thing, these days he's a wine buff-turned-winemaker himself. Casale and a partner recently bottled their first pinot noir harvest at their fledgling Napa Valley vineyard.
And, of course, Devo are a band of a unique vintage.
"No one else looked like us. No one else sounded like us. Nobody else wrote about what we were writing about and nobody else integrated video and theatrical staging the way we did,"says the 64-year-old Casale on the phone from Los Angeles.
"Sure, there were bands who were a lot better-looking, bands who could sing a lot more notes and bands who could play a lot more complex lines. But nobody had the ideas that Devo had."
Yes, the group that formed in Ohio in 1972 - Casale had been a witness to the Kent State University shootings of his fellow students by the Ohio National Guard during an anti-Vietnam protest two years earlier - always had a theoretical side.
As long-time fans know, the band's name is a reference to "devo-lution", a joke-turned-band-manifesto that mankind was heading backwards. The concept, the uniforms, the synthesizer-pulse of their sound certainly made them stand out as US rock subversives just as punk arrived.
But in the years after their Brian Eno-produced 1978 debut album Q: Are We Not Men? A: We Are Devo!, the high-concept outsiders with the unconventional dress sense and electronic urges became Devo, quirky New Wave hitmakers. Especially with the arrival of 1980's third album, Freedom of Choice, with songs like Whip It, Girl U Want and the title track.
Looking back, Casale says he didn't mind how Devo mutated from art statement to early MTV staple.
"You do have a plan and that plan changes. When people decided who we were once we went out, it didn't matter how many interviews we did and told people what we were thinking, they got their own idea and it was pretty simplified. If you are successful at all, you get trivialised. If you didn't you wouldn't be successful. We weren't trying to write hits. That should be obvious to everyone. If a song on a record became a favourite or a hit or got a lot of radio play, we were elated.
"In retrospect we understand why certain songs are just too tedious or too strange to get a big audience. But I happen to like the songs where the best part of our aesthetic comes together with the most accessible kind of expression musically. What do I mean by that? I would say that Whip It is a great example - there's nothing normal about that song and yet people feel it's a lot straighter than it is."
Casale was behind many of the band's videos and, when the group foundered in the late 80s, went on to direct clips for many other acts as many of his bandmates shifted into soundtrack work.
The band started performing occasionally again from the mid-90s, appearing regularly at the era's Lollapalooza festivals in the US. In 2010, they released Something for Everybody, their first album in 20 years, to largely favourable reviews.
Casale says there are other Devo projects in the wind. Among them is a documentary about the band's early period from their formation up until they performed on American television's Saturday Night Live in 1978, after early support from the likes of Iggy Pop, David Bowie and Neil Young.
"It's kinda like Spinal Tap with brains. It shows you how no matter how smart you are, and no matter how much you think you know what you are doing, something else happens once you get plugged into the music business and it gets out of control."
That SNL performance had them playing their frenetic hiccuping cover of (I Can't Get No) Satisfaction - a week after the Rolling Stones appeared on the show.
Their cover had been an early single and had appeared on the band's debut album. But only after Mick Jagger approved the song that the band had "mutated" enough to define it as as a parody requiring his permission.
Casale laughs as he remembers he and vocalist-keyboardist Mark Mothersbaugh had to take a cassette to the Rolling Stones' management office in New York.
"Jagger came in with a glass of wine in his hand, velour turtleneck, black jeans and he nods at us and says 'all right then, let's hear it'," says Casale attempting the frontman's accent, "And we stuck it on this boombox and we are sitting there ... and he had his head down for 30 seconds and then he jumped up and started dancing around in front of the fireplace just like Mick Jagger dances and he said 'I like it, I like it'. So we went back to LA feeling on top of the world."
As for being a onetime futurist band still playing the songs of their past, well, don't let Devo's uniformed, deadpan demeanour fool you. Playing live is fun. Always has been.
"This is what we did. We did it before we made any money from it because we loved it ... it's the joy of the experience of being in front of people and performing."
Who: Jerry Casale of Devo
What: A Day on the Green with Simple Minds and The Church
When and where: Villa Maria, Saturday
-TimeOut