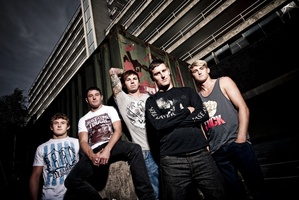 They can sure make a racket. In fact, Parkway Drive rock, thrash, pummel, grind and growl in all the right places. Imagine an Aussie version of masked metallers Slipknot and you come close to their supreme doom-laden sound. On recent single Dark Days the Byron Bay five-piece proved they have the precision and force to create an unwavering, fist-pumping anthem ready to ignite summer moshpits - something that will no doubt go down well with fans when they bring their apparently brutal live show to New Zealand next week. But there's one major problem with Atlas - the band's fourth studio album - that reveals itself after several listens: the vocals of frontman Winston McCall. McCall can't contribute the variation to his aggressive posturing needed to elevate Parkway Drive's shapeshifting metalcore into the top tier.
Old-school riff-fests like Old Ghost/New Regrets and Sleight of Hand are begging for a sing-along chorus - something Gallows nailed recently on their excellent last album - to help temper the repetitive growling that McCall seems to rely on. When they finally do it in Wild Eyes, which marries a football sing-along to a glorious riff with excellent results, Parkway Drive prove just how spectacular they would be with a front man who could deliver the goods more often.
Stars: 3/5
Verdict: Aussie metallers bring the noise
Click here to buy a copy of Atlas by Parkway Drive.
- TimeOut