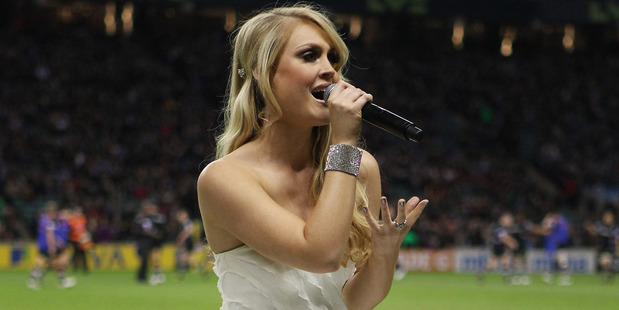 A classical singer making big strides in England credits her idyllic Kiwi childhood and a driven music teacher with aiding the rise of her music career.
Growing up in Devonport, Camilla Kerslake learned to sing in Maori from almost the moment she could talk.
She expected these skills to come in handy, singing the New Zealand national anthem before the All Blacks test at Twickenham this morning.
Kerslake, who has been dating England rugby captain Chris Robshaw for the past two years, said she was 100 per cent Kiwi, despite moving to England as a 9-year-old.
Most of her family still live in New Zealand, including her uncle, motivational speaker and cancer survivor Phil Kerslake.
But she admitted to divided loyalties when watching England play the All Blacks.
"My dad did say 'why couldn't you have gone out with Dan Carter?' But I told him that would have been a miserable, long-distance relationship."
The "crossover" singer, now 24, enjoyed the highlight of her career last month when she was asked to sing alongside Italian opera star Andrea Bocelli in London.
Kerslake, speaking from London, where she had just finished a second night performing with Bocelli, described it as a fairytale.
"It's the stuff that dreams are made of. I was absolutely terrified, but I think I managed to cover it up quite well. I was completely overawed, it was surreal."
Kerslake credits her idyllic childhood in Devonport, Auckland, and a driven music teacher Jan Dick at Vauxhall School with pushing her into a musical career.