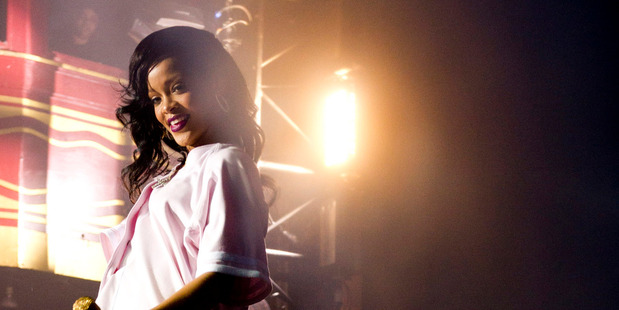 It was a jet-set jaunt that drew the ire (and delirium) of some journalists, but despite the mile-high turbulence, chart-topping songbird Rihanna says she'd do it all over again.
But first, an apology from the Unapologetic star.
The pop princess says she's sorry for the lack of interaction with the 250 jet-lagged journos, fans and entourage members who flew with her on board a Boeing 777 for her recent seven-day, seven-country, seven-city album promotional tour.
The singer, 24, started the ambitious promo tour in high spirits last week, grabbing a seat in the back of the plane, popping the odd Champagne cork and mingling with the masses while en route to Mexico City from Los Angeles.
But the all-access face time was short-lived. Rihanna swiftly went AWOL and slumbered in the cushty surroundings of the first class cabin - and stayed there, as they whizzed between Mexico City, Toronto, Stockholm, Paris, Berlin, London and New York.
By day five, somewhere between Berlin and London, a mini-mutiny ensued as the frustrated, travel-weary journos turned to desperate measures, chanting "RiRi", "Just one quote!", and yells of "Save our jobs, save our jobs!".
One reporter for Spin magazine wrote: "Shortly after the plane took off, everyone in coach lost their collective minds simultaneously. Psychologists will study the footage for years to come."
Some were so fed up with the singer's absence, they mocked-up a "Missing: Rihanna" poster to pass around the jet.
And the highlight? One Australian shock jock decided to liven things up a bit by dropping trou and streaking through the packed cabin.
Rude boy: Check out video footage of the cheeky protest here.
MTV's Mary HK Choi tweeted: "BEDLAM on the @rihanna plane and press corp YELLS 'save our jobs' and 'just one quote'."
"We were looking for a story, and we turned out to be the story," shared a correspondent for Fuse TV.
"Everyone is delirious to the point where we are chanting random things. One guy from Australia has streaked stark naked throughout the entire plane! Everyone is up with their cameras rolling waiting for a glimpse at Rihanna. We don't know if it's going to pay off, but we're all ready."
One disgruntled passenger who won a place on the trip in a competition told The Sun: "We've spent days waiting for her on the Tarmac to get on planes or waiting in coaches for hours on end. There's more waiting when we arrive in each city too, lugging cases off buses to hotels then straight out again."
'I'D F***ING DO THIS AGAIN'
And after six days of zero interaction with the folk on board the plane, Rihanna finally surfaced on Wednesday and made a cabin cameo as the 777 prepared to land in NYC for her final concert.
"I'd f***ing do this again," replied the singer when asked is she had any regrets about the unorthodox promo tour.
According to Us Weekly, whose editor Ian Drew was on board the plane, Rihanna went on to explain her disappearing act.
"Guess what, we made it! This has been an experience that I will never ever forget. I barely slept. My sleeping was all done on this plane," she said.
"I want to thank everyone for making this trip the sh*t. I want to see the naked Australian!"
She added, "I was glad I did this. Absolutely. Tonight is the night everything we did this week goes off.
"I know you guys got barely any dirt. But I had to be good," Rihanna explained. "I still sound like sh*t. It's impossible to spend time with everybody, and I'm sorry I didn't. But this was excellent and I would definitely do it again."
She continued: "I had to preserve my health. Normally I'd be back here [in coach] popping bottles with y'all.
"I had to preserve my voice, I was worried about my body more than partying on the plane, so I had to just sleep whenever I could," she added. "I hope you guys had as much fun as I did."
Probably not as much fun as the naked, aisle-trotting Aussie guy.
Rihanna later took to Twitter to hail the dizzying jaunt a success.
She enthused: "#777Tour is a wrap! Thanks to everyone who was a part of this. It was an incredible experience for my fans and I!"
Meanwhile, Rihanna's seventh studio album, Unapologetic, is storming up the charts in the US.
Check out TimeOut's review here.
FAST GOSSIP
And finally...
* Does Emma Stone really have a pre-fame sex tape?
* Chevy Chase abruptly leaves NBC comedy Community.
* New tabloid claim: Kristen Stewart wants to get pregnant with Robert Pattinson's baby.
* Matthew McConaughey dishes on his shocking weight loss.
* Helen Mirren cops a feel of Jessica Biel.
* Jon Bon Jovi speaks out about daughter's heroin overdose.
* Nicki Minaj reportedly barred from attending her own album release party, talks Mariah Carey 'feud'.
* Dirty Jobs officially comes to an end on Discovery.
* Kate Winslet receives CBE honour at Buckingham Palace.
* Justin Bieber won't face battery charge for alleged scuffle with photographer.
* Lenny Kravitz to play legend Marvin Gaye in biopic.
* Listen: Cher debuts new single Woman's World.
* Susan Boyle's album launch backfires on Twitter.
Follow Myrddin Gwynedd on Twitter.
- Rumour Has It