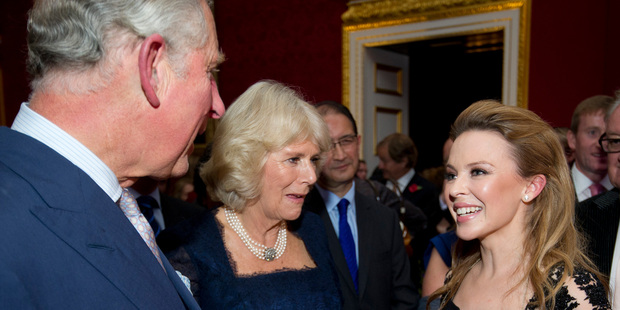 Australia's princess of pop Kylie Minogue has made a surprise palace appearance, singing for Prince Charles and wife Camilla ahead of the royal couple's trip Down Under.
More than 150 guests gathered at London's St James' Palace on Wednesday evening for a reception ahead of the two-week tour of Papua New Guinea, Australia and New Zealand, which begins on November 3 in honour of the Queen's Diamond Jubilee.
In an intimate setting Minogue, 44, accompanied by acoustic guitar and piano and two back-up singers, performed three songs - On A Night Like This, I Believe In You, and Locomotion.
"Your Royal Highnesses, it's a great pleasure to be here tonight ... the big question is, are you ready to swing your hips? This is a song to bid you bon voyage. Move if you feel the desire," Minogue said before a sparkling version of her 1987 hit Locomotion.
The singer, who now calls the UK "home", said the heir to the British throne, 63, and his 65-year-old wife Camilla would have a great time on tour.
"(Australia) is such a big, beautiful country. I was glad to see on the list of the places they're visiting, they're really giving it a good old shot, they're seeing quite a bit and they're going to love the whole place," Minogue told reporters of the upcoming royal tour.
"I know they will both enjoy the hospitality Australia offers."
Camilla, who is making her first trip to Australia, and Charles touch down at Longreach on November 5, and during their six-day tour will also visit Melbourne, Adelaide, Hobart, Sydney and Canberra, before spending six days in New Zealand.
The couple was offered some tongue-in-cheek travel tips from republican Australian author and social commentator Kathy Lette, who was among the palace crowd on Wednesday, wearing a dress made from an Aboriginal flag.
"The one thing Camilla really wants to do is have a surf," Lette told AAP.
"So I suggested she go to Bondi Beach in a burqini so she's not noticed, or maybe one of Sydney's male nudist beaches where no one would know who she is.
"I've bought Charles a pair of budgie smugglers ... and am sending them off with some Vegemite and tea tree oil."
Funny man Barry Humphries also met Charles and Camilla at the reception, and the Dame Edna Everage creator gave a light-hearted Australian perspective on the tour.
"I hope they're not forced to pat too many marsupials, they are very overrated," Humphries said.
"And I'm glad they are going to meet our prime minister. I really approve of our prime minister because she always makes me laugh. She finds it hard not to curtsy, you know, she's always bowing down like she did in India,'' he said in reference to Julia Gillard's accidental trip in New Delhi last week.
Entertainer Rolf Harris was on hand to chat with the Prince and Duchess, as was former AFL player Tony Woods, who presented Charles with a Steeden Aussie rules football.
- AAP