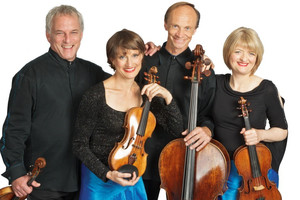 Gillian Ansell's introduction on Sunday to Haydn's String Quartet Op 20 no 2 was a model of well-measured eloquence, launching a concert that would begin in an 18th-century drawing room and end in a 20th-century concert hall.
The New Zealand String Quartet had the Haydn to itself and, after some slightly unsettled intonation, the opening Moderato displayed all the zest and authority we have come to expect from these musicians.
Ansell had promised a touch of the operatic in the second movement and her colleagues followed it through with an appropriately theatrical dash.
The Minuetto came with a sense of humour that almost tipped into Scherzo territory; the final Fugue was modelled in silvery whispers.
Peter Scholes came on stage for Weber's Clarinet Quintet, praising the composer for taking on the challenge of the genre and promising us heaps of fun. It was just that, as Scholes rippled merrily through the showy passagework of the three fast movements.
With the rich sonorities of the strings behind him, he drew some remarkable poetry from the Adagio. Here was the Weber whose Oberon Overture, back in 1826, was a harbinger of the new Romanticism.
Osvaldo Golijov is a composer whose works are not as well known on our concert programmes as they should be. His 1992 The Dreams and Prayers of Isaac the Blind, calls for klezmer clarinet and strings to invoke a 40-minute portrait of Jewish history and culture in music.
Helene Pohl chipped into Scholes' spoken introduction, assuring us there would be dancing as well as dreaming and praying. Sure enough, all along the way exhilarating outbursts might well have tempted some to dance an energetic hora.
Elsewhere, the musicians laid out a radiant and volatile cloak of colours. Scholes, with four instruments, covered a gamut of ranges and styles. Alongside him, the NZSQ evoked everything from dance band to breathy accordion.
What: Dreams and Prayers by The New Zealand String Quartet
Where: Raye Freedman Arts Centre, Epsom