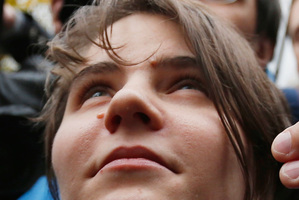 The recently freed member of the Russian punk band Pussy Riot has denied rumours of a split within the trio who stood trial and vowed to continue her opposition to President Vladimir Putin.
Yekaterina Samutsevich, 30, was set free in a surprise ruling on Wednesday, after she said during her appeal that she had not fully taken part in the "punk prayer" in a church that led to her and her two co-defendants being jailed for two years in August.
Maria Alekhina, 24, and Nadezhda Tolokonnikova, 22, both had their two-year sentences confirmed by the appeal court.
"I have mixed feelings," Samutsevich said in a television interview shortly after her release. "Of course I'm very happy to be out and free, but I'm very upset that Nadya and Maria are still incarcerated."
After the judge ruled that Samutsevich be released, she shared emotional hugs with the other two women, who appeared pleased to see her let free.
But the Russian blogosphere erupted in criticism of Samutsevich and the Pussy Riot lawyers, some suggesting that the ruling had been a cunning attempt by the authorities to create tension between the band members.
"Which new game exactly have our authorities begun?" asked the newspaper Moskovsky Komsomolets on its front page. "Are we once again talking about an attempt to apply the time-honoured formula 'divide and rule'?"
Samutsevich fired her initial lawyers, and her new lawyer argued that she was stopped by security before she could properly take part in the "punk prayer". The judge agreed and commuted the sentence.

-Independent