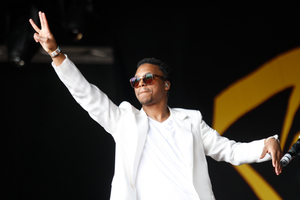 You know Lupe Fiasco, right? He's the Big Day Out-loving backpack rapper with a soft spot for skateboards and sunny days. Not anymore.
On Food & Liquor II, a sequel of sorts to his acclaimed 2006 debut, Fiasco graduates into rap's top tier, ranting and raving like a full-blown mini-Kanye while delivering his hardest-hitting album yet.
"You can be Mr Burns or Smithers, the tyrant or the slave but nowhere in the middle," Fiasco raps like a man on a mission on Around My Way (Freedom Ain't Free).
It's his most political statement yet, tackling environmental disasters, oil-based wars and America's struggling economy while keeping it fun and funky thanks to the classic Pete Rock T.R.O.Y trumpet sample.
It's a great trick that he repeats on the pro-feminism thump of Bitch Bad, the religion-baiting Lamborghini Angels, and Audubon Ballroom which examines what the N-word means to Americans in 2012.
It's confronting stuff, but Fiasco crafts his sermons over top-rate hip-hop production, and late album tracks Battle Scars and Cold War prove he has the charisma and consistency to pull off his grand ambitions.
If he really is threatening to retire, as several recent tweets threatened, let's hope it's in the Jay-Z sense of the word, because Fiasco has found the form of his career.
Stars: 4/5
Verdict: Top of the rap pack
Buy this album here.
- TimeOut