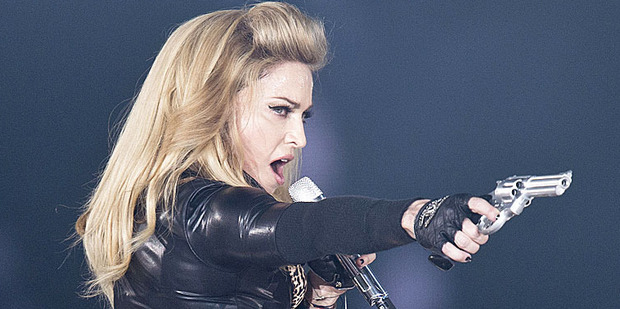 With two failed marriages under her belt, you might argue that Queen of Pop Madonna's not best placed to be doling out marital advice, but then again ...
The pop matriarch, who is currently working her way across Europe on her MDNA tour, helped one fan with a marriage proposal during her concert in Amsterdam on Sunday.
Part way through the elaborate show, Madge took a moment to address the crowd and mention that she'd heard a rumour that someone was going to pop the question.
"Is that true?" she asked, before a woman in the front row raised her hand.
"Who are you going to ask to marry you?" she probed. "Well, do you want to ask him to marry you in front of several hundred thousands of people?"
"Is that the man you love?" she continued, while asking the boyfriend, "Do you love her? Huh? Very much? For the rest of your f***ing life?"
Madge then handed the woman her microphone - after warning her not to "slobber all over" it, naturally - who then proceeded to ask her fella to marry her.
"Yes, sure!" he said, which was met with rapturous cheers and applause from the crowd.
The singer, who was previously married to Sean Penn from 1985 to 1989 and director Guy Ritchie from 2000 to 2008, also doled out some marital advice for the couple.
"I'll give you once piece of advice," she said. "Never go to bed angry".
"Two pieces of advice. Sorry," she added. "Learn to say the word, 'I f**ked up.'"
Check out a video of the proposal here (strong language warning).
Madonna herself was rumoured to be mulling over a marriage proposal earlier this year.
The 53-year-old singer was said to be considering her response to toyboy Brahim Zaibat, 24, who was claimed to have popped the question in February.
A source told the Mail On Sunday: "Brahim asked Madonna to marry him at the centre a few weeks ago, but Madonna hasn't given him an answer yet. She doesn't want to rush into anything.
"She is very happy with Brahim, although her friends are not sure she is ready for marriage again."
The source added: "That said, Madonna has a real fear of being on her own.
"It's a major issue for her, and she loves having a man in her life who is young and makes her feel young."
The pair have been dating since 2010.
Marry? Hell no, her Madgesty would rather be hit by a train.
In the wake of her bitter divorce from Guy Ritchie, Madonna famously told talk show host David Letterman in 2009 that she would "rather get run over by a train" than get hitched again.
She was dating Brazilian model Jesus Luz, 23, at the time.
But the singer recently told chat show host Graham Norton that she is ready for marriage, and would love to be "swept off her feet".
"Every girl wants to be swept off her feet by a knight in shining armour," she said.
"Even if we are sophisticated, intelligent, evolved human beings, we like to think in the back of our minds that Mr Right is going to sweep us off our feet and take us into the sunset, and we're going to live happily ever after.
"But we keep getting disappointed. If you have even half a brain you know that doesn't exist."
No pressure, Brahim!
- Blogger Bites Back