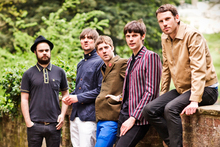 The huge Kaiser Chiefs banner at the back of the Powerstation stage on Thursday night may have proclaimed the future is medieval but the punchy, rapid-fire set delivered by the Leeds five-piece on their first visit to New Zealand demonstrated that the present is pretty content to stay in the past as well.
The lads are reportedly more than happy to be known as a "singles" band, and tonight the sold-out crowd got a greatest hits set as the Kaisers plugged their latest release, Souvenir, a collection of their hits since 2004. Coming on to Dire Straits' Money for Nothing, they launched themselves into Na Na Na Na Na from 2005's Employment, then Everything Is Average Nowadays from 2007's Yours Truly, Angry Mob.
Third song Kinda Girl You Are, from 2010's The Future is Medieval, was one of only a few newer songs sprinkled throughout the night, which was just as well as the audience were mostly there to hear the hits.
Yes, drummer Nick Hodgson, the band's primary songwriter, sure knows how to write a catchy guitar pop-rock song, proved comprehensively as the band rattled off all the favourites including Everyday I Love You Less and Less, Ruby, I Predict a Riot ...
and a rousing rendition of Modern Way.
Frontman Ricky Wilson, well-known for his ludicrous stage antics, was in fine form, flinging himself, his tambourine and his mic stand across the stage, and during an extended version of Take My Temperature, even clambering up the speaker stacks and on to the upstairs balcony.
During Oh My God, the final song of the night, in a sort of messiah manoeuvre, Wilson ordered the crowd to split apart, sit on the floor and shut up while he finished the song in amongst them.
It was a fitting end to an entertaining and energetic show, which left fans feeling pleased with the bang they'd received for their buck.
Support act Young Lyre proved a good match with their upbeat melodic pop-rock, finishing their set with catchy latest single Make Light.
Who: Kaiser Chiefs
Where: Powerstation, Auckland
When: Thursday, May 10
By Shandelle Battersby

Email

Shandelle