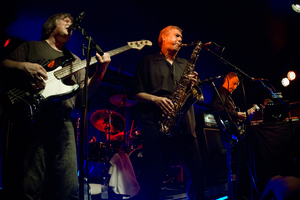 As much as I wanted to see Mark Lanegan's show at The Powerstation (his new album is excellent), I couldn't resist the pull of the classic garage band from Tacoma, Washington, The Sonics. Chances are I would have the opportunity to see Lanegan again, but, considering their age, I am certain that this would be the only chance to catch The Sonics.
I admit that, even though The Sonics made some of the fiercest rock'n'roll to come out of the Pacific Northwest, I had low expectations for their live show. After all, this is 2012 and The Sonics is a band who formed in 1960 and initially split up in 1968. That's a long time ago, and the chances of them recreating the excitement of those classic recordings were slim. But you know what? They did it.
The atmosphere was perfect at the Kings Arms, just the right size crowd and plenty of enthusiasm. The Sonics came on with a roar, playing He's Waitin' from their second album, 1966's Boom. These days the band consists of original members Gerry Roslie (vocals and keyboards), Larry Parypa (guitar) and Rob Lind (sax, vocals, harmonica) along with drummer Ricky Lynn Johnson and Freddie Dennis on bass and vocals.
Even during their heyday, the band's sets consisted of a mix of original tunes and an assortment of bar band standards. Nothing has changed. The band covered the old Motown hit, Money along with Have Love Will Travel, I Don't Need No Doctor and three Little Richard tunes (Keep A Knockin', Lucille and Jenny, Jenny) all sung by Dennis.
Roslie was in good voice as well, but the real highlight was Larry Parypa's guitar playing. His sound is still raw and piercing and he played some excellent solos, particularly during Shot Down.
Although most of the songs dated from the 1960s, they did play a few tunes from their newest release, last year's Sonics 8. Fortunately songs like Vampire Kiss and Cheap Shades fit right in.

But it was the classics that the crowd came to hear and The Sonics delivered. I don't think I've ever heard a better one-two punch at the Kings Arms than Strychnine followed by Psycho. Awesome!
The only way to follow those two was with the great Northwest rock standard Louie, Louie. They finished the regular set with The Witch, which was stunning.
The encore was something of a let-down - a stripped down version of Don't You Just Know It and the third Little Richard tune, Jenny, Jenny.
But hey, I got to see The Sonics. And they were loud, raw and rockin'.
Who: The Sonics
Where: Kings Arms, Auckland
When: Wednesday 18 April