The cover of Tono and the Finance Company's debut full-length has Anthonie Tonnon in the window seat of a plane, face obscured as he gazes, perhaps worryingly, outside. The cover is particularly fitting for the album inside – Up Here For Dancing is an album particularly focused on Auckland, but written by a relative newcomer to the isthmus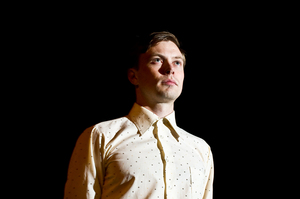 First coming to prominence as a Dunedin band, Tono and the Finance Company caught your ear by writing witty local narratives with an eye for detail. But those details seemed set either in the provinces or the South Island. All along, songwriter Tonnon says he kept "falling in love with girls from other places". Realising it was part of a wider problem, he headed for Auckland early in 2010.
"I booked a flight for 1 January, which just happened to be really cheap, because no one wants to take the hungover New Year's Day flight. I went and saw my girlfriend who dumped me as soon as I got to Auckland, then I stayed with a friend while looking for a flat. Everything in Auckland was really hitting the ground running up until just after Camp A Low Hum, which is when I got the letter about the flat. And that's when I first experienced what I'm starting to experience now - my first Auckland autumn."
Auckland as the gloss comes off - that's a good place to start this chapter. Getting kicked out of his Grey Lynn flat was a catalyst for writing Marion Bates Realty, a scathing, scarcely disguised and familiar tale of getting kicked out of your flat. It's probably the catchiest thing the band's ever done.
"Marion, it must be great to be a real estate agent/ You decide who's good enough for the street/ And that's not me," he croons before the wordless hook and rolling bass line send you flying forward again. At one point he's extolling the virtues of his house to prospective renters: "It's a pretty nice house/ It's really close to the Foodtown", but he puts the song to bed sarcastically wishing Bates a nice sleep.
Its content is indicative of a wider lyrical trend on Up Here for Dancing. It's Auckland seen from that gray area occupied by musicians, somewhere between middle class and stone-cold broke. Tonnon succinctly calls it "moonlighting with the middle class". The album talks about living in a Grey Lynn flat, going to gallery openings, being a socially aware young man, getting too drunk to care about eating ethically and other such perils of being age 23. One poignant moment appears in Eating Biscuits where Tonnon imagines a brighter future with some level of financial comfort. The catch is, he's looking back and rueing the abandonment of artistic pursuits. Today though, he's feeling pretty good about Auckland and the future.
"There's just enough hot air in Auckland to make things exciting. In Dunedin there is none. You're making records and you know that you want to be a musician fulltime eventually and you know that you'll want to tour overseas and stuff, but nothing happens. You make your record, maybe you send it out to get it reviewed and stuff and then you'll go back to whatever you're doing in Dunedin and nothing will change. Things are straight up and realistic down there," he says. "It's a lot different to up here, where a few of the people I play in bands with have toured overseas. There's a wonderful sense of possibility in Auckland - even though in reality it might be just as hard to do things, because you see other people doing them it looks a lot more possible."
And some of those possibilities are coming to fruition. A set opening for US indie stars Beruit shone more light on a band that's quietly hitting its straps.
The record itself was cut in 11 days of crisp Dunedin winter with Tex Houston (The 3D's, The Clean). It was something of merging of Tonnon's two worlds, bringing Aucklanders Jonathan Pearce and Stuart Harwood together with Dunedin collaborators Chris Miller, Logan Valentine, Rainy McMaster and Paul Cathro. The songs had been fine-tuned over countless Whammy and Wine Cellar sets, during which Tonnon developed into a dedicated vocalist after beginnings on guitar/vocals. Admitting that the songs didn't come across so well as a three-piece, it's been a welcome change, one that's allowed him to concentrate purely on singing and getting across those delightfully specific lyrics.
"The way I watch a three-piece band is I'm listening for cool guitar sounds and a great vocal melody. I'm not listening for lyrics at all because I'm not expecting any. But when you take the guitar away from the frontman, you subconsciously start listening to the lyrics. As a frontman you've got to learn how to inhabit those characters, but now you've got your whole body to do that. It took me a long time to learn how to do it, but I think it's really made a difference.
"And there are little things that help - you can get a really long lead and stand on the other side of Whammy Bar and actually hear what you sound like."
And what does Up Here for Dancing sound like?
"The record's not an easy record to dance to - what I write doesn't tend to lend itself to that. But, y'know, what is 'up here for dancing'? How do you do that? Being in a plane is kinda like that - you can't really dance on a plane."
Tono and The Finance Company might not be dance music, but they're guaranteed to coax a few synapses into shaking a leg.
Tono and the Finance Company's Up Here for Dancing is out now on Bones and Wood.