The Red Hot Chilli Pipers are in town to give Scottish supporters a jock 'n' roll tune-up. Scott Kara reports.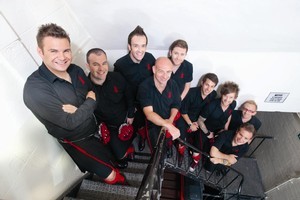 When Scottish lad Kevin Macdonald was growing up, the bagpipes were not cool. Not that he was put off playing them; he had taken them up from an early age while living in the north of Scotland and was a member of the 47th Culter Boys' Brigade Pipe Band.
It's just that when his family moved further south, nearer to the big smokes of Glasgow and Edinburgh, his high school mates were more into guitars, drums, and bass than the shrill wheeze and drone of bagpipes.
"It really was not cool at all," says the lead piper of the Red Hot Chilli Pipers, an eight-piece band who fuse traditional pipe tunes and rock to conjure up something Macdonald and his music-making clan call bagrock.
Fifteen or so years on from his school days, things are different and the 33-year-old bagpiper is now officially cool. Thanks to the Chilli Pipers' music, which includes versions of songs by everyone from Deep Purple to Coldplay, and a surge in Scottish nationalism, there is more interest in the bagpipes.
"A lot of kids [in Scotland] have been inspired to take up the instrument because of our cross-pollination with guitars. So if anything we have made it a bit cooler to play them," he says.
Even if the youngsters are practicing AC/DC's Thunderstruck or Coldplay's Clocks as opposed to Flower of Scotland or Scotland the Brave.
"Well, at least they're practising," laughs Macdonald on the phone ahead of the band's tour of New Zealand.
The Chilli Pipers play the Spirit of Bannockburn concert at Vector Arena tomorrow night - dubbed a night of Scottish revelry - before the Scotland versus England game at the World Cup on Saturday. They also play six dates around the country.
Macdonald sounds suitably impressed that All Black captain Richie McCaw plays the bagpipes.
"I didn't know that. If Richie can do that then I think we need to get the All Blacks along to our concert."
The origins of the Chilli Pipers go back to the early 2000s when Macdonald and a few of his mates had a small company called Scottish Bagpiper which provided pipers for weddings, funerals and other formal events.
But one day fellow piper Stuart Cassells - who founded the Chilli Pipers but recently left because of an ongoing injury - suggested rarking up the "boring" aftermatch functions at weddings with "something a bit different".
"We got some free gigs trying to convince agents that we could do a bit of entertaining after dinner, and it just snowballed from there. It was just a bit of light entertainment really - We Will Rock You on the bagpipes."
It was very much a part time job and a bit of fun, until the band were picked to play the pilot for British talent show When Will I Be Famous, which they went on to win in 2007.
"The rest, as they say, is history because it just catapulted us to a whole new level. From that point it went from five guys and a guitarist having a bit of fun to all of the sudden putting together a stage show and people were buying tickets. We've put a lot of smiles on a lot of people's faces."
And since then, as well as releasing four albums, including 2008's Bagrock to the Masses and last year's Music For the Kilted Generation (a play on the Prodigy album Music for the Jilted Generation), they have been putting smiles on peoples' faces around the world from the US to Asia, and now New Zealand.
The idea of bagpipes and rock 'n' roll, and playing renditions of songs such as Smoke on the Water and The Who's Baba O'Reilly, could come across as gimmicky.
"But the trick element," says Macdonald, "is [walking] the fine line between what we call bagpipe karaoke and playing clever music. It would be very easy for us to do The Final Countdown, because there is nothing technically demanding about it, but if you take something like [Snow Patrol's] Chasing Cars or Clocks [by Coldplay], there are three part harmonies so all the pipers are doing different things, but you still get the gist of the tune. So the trick is finding material that is clever.
"Although," he says with a hearty Scottish chuckle, "you can't get away from the fact We Will Rock You on the bagpipes is funny, or that Eye of the Tiger is gimmicky."
Macdonald says their aim with bagrock is not to take away the Scottish and bagpipe element of the music but "to take the bagpipes to the rock, rather than just playing a rock tune on bagpipes".
"I still enjoy listening to traditional pipe bands, and a few of the boys still play in them, so we don't want to lose that but at the same time we like to have fun as well. People get the wrong idea about bagrock that all we do is play rock songs. But we also play traditional tunes that we've added a rock edge to and that's what I mean about the fusion between the two."
- TimeOut