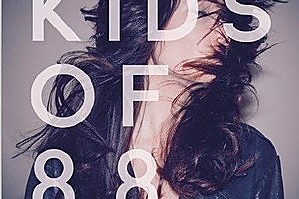 Rating: 4/5
Verdict: There's a party at the kids' house
Among the rash of what can be loosely termed Kiwi synth pop bands - The Naked and Famous, Computers Want Me Dead, Kidz In Space and the like - it was Kids of 88 who were the first to have a major impact, with My House back in June last year.
It was a raucous, rowdy, and most importantly, banging 80s-inspired pop tune that seemingly came out of nowhere. And though it only peaked at No 3, it was one of the songs of the year. It was, however, also one of those incessantly catchy tracks that had the potential to be a one-hit wonder.
But never fear, it still lives on more than a year later as a fun, dance-your-arse-off tune that is now the centrepiece to Kids of 88's debut album, Sugarpills. And the 10-track record proves these kids - made up of singer Sam McCarthy, programmer/keyboardist Jordan Arts, and co-songwriter Joel Little - have more tunes up their sleeves, and they're not all stompers like My House and latest single, the going-out-on-a-budget anthem, Downtown.
While it's all still unashamedly rooted in the 80s, Sugarpills moves from the high-beam synth pop of Everybody Knows, a sweet and soaring sing-along that has hints of OMD's Forever Live and Die and the deadbeat thrum of the Jesus and Mary Chain; to the pumping and pounding teeny bop of Cottonmouth; and on to the stranger, more experimental nature of San Fran, where late 80s TV show Full House, disco and Kraftwerk somehow come together as a blissful whole.
Then there's Feed the Birds, a loping 80s electro epic, which at the beginning threatens to break into a slow motion version of Human League's Lebanon and last track SQRL, which escalates into a dizzying swirl of pulsing beats and a wonky and woozy synth cocktail.
McCarthy's voice, on first impressions anyway, could be written off as whiny and shrill. But the way he alternates between singing and rapping - heard best on My House ("I can tell that you ain't seen shit like this before.") - he's like one of the Beastie Boys-meets-wailing male pop diva.
The bottom line is Sugarpills, even at its most subdued and spectral, is good-time party music. You'd have to be a prude, or a killjoy not to want this banging away at your house.
-TimeOut