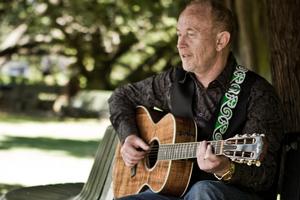 Armed with only an acoustic guitar, piano and his voice, Dave Dobbyn is heading to the chapel to play some shows. But he guarantees it will rock. Dobbyn, who celebrated 30 years in music last year, is touring the majestic churches, chapels and cathedrals of New Zealand on the 2010 Classic Hits Acoustic Church Tour. "It is an acoustic gig - but it will rock," he says.
The tour - now in its second year and expanded to 11 cities, with New Plymouth and Nelson added to the bill - starts at the Chapel of Christ The King at St Paul's Collegiate in Hamilton on September 9, and includes an Auckland date at the Holy Trinity in Parnell on September 10.
"I'm excited by the ambiences of churches," says Dobbyn of the venues he'll be playing in. "There are layers of resonance that are ideal for singing. I've always been transported by the sonics of such rooms. In performance it allows you to expand the dynamic range without over-playing. I love that challenge. There's also an intimacy about it."
Dobbyn will be joined on tour by a band made up of his old mate and drummer Ross Burge, brothers Matt and Jo Barus and keyboard player L.A. Mitchell of the Dukes (who will also be the opening act).
Dobbyn says the set list will be made up of a selection of favourites, including Welcome Home, Loyal, and, rather appropriately, Slice of Heaven. Along with some choices to hopefully suit the spring season and the lofty ambience of your local temple. See you there then."
Dave Dobbyn Acoustic Church Tour:
Chapel of Christ The King, Hamilton, Sept 9;
Holy Trinity Cathedral, Auckland, Sept 10;
Holy Trinity, Tauranga, Sept 11;
St Andrews Church, New Plymouth, Sept 15;
All Saints Church, Palmerston North, Sept 16;
St John's Cathedral, Napier, Sept 17;
as well as dates in Wellington and the South Island. Forr more information go to acousticchurchtour.co.nz or classichits.co.nz. Tickets: On sale 9am, July 15 from acousticchurchtour.co.nz and Ticketek