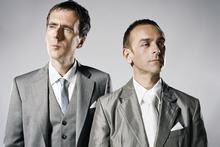 Underworld had been around for 15 years in one form or another before they hit the big time in the mid-90s - and they did it with a drug and booze party anthem called Born Slippy.
That song, with its mix of techno, acid house, banging trance, catchy pop sensibilities, and Underworld singer Karl Hyde's chant of "Lager lager lager", made it one of dance music's biggest pop songs.
Its success was also helped by its use in the 1996 film Trainspotting, which starred Ewan McGregor as lovable Scottish junkie Renton.
"It opened a lot of doors," says Hyde of the song today. "Without it, things would have taken a lot longer and progress would have been slower."
Underworld headline dance extravaganza We Love Sounds on June 4 at Trusts Stadium in Henderson, the first time the Australian winter music festival has visited New Zealand. Also on the bill are Italian electro duo Crookers, Dutch DJ and producer Laidback Luke, along with locals Minuit, the Naked and Famous, Kids of 88, Mt Eden Dubstep, Pig Out, and more.
Hyde's a little reticent yet light-hearted when asked if they still play hits like Born Slippy.
"It's important for us to change the show," he chuckles, "but yes, we play things people want to hear and we'll be playing a lot of new material too."
And besides, Underworld were far from no names before Born Slippy.
They'd had a big hit in the late 80s with Underneath the Radar, a type of guitar-driven Jesus Jones electropop song, and they started changing the face of dance music, lending it an even broader appeal, with songs like Cowgirl, a hypnotic hoedown off classic 1994 album Dubnobasswithmyheadman.
Along with acts like the Chemical Brothers, Leftfield, and Future Sound of London, Underworld were part of a movement that blurred the lines between indie guitar rock and dance music.
"We grew up around DJs like John Peel, who always opened up the door to so many cross genres. That's really where our heads have always been at. That music is music whatever form it is. I think we reinforced the idea that we shouldn't factionalise music - music is way too cool to be boxed and pigeonholed."
They've had many different guises since Hyde and Smith met back in the early 80s in the Welsh capital of Cardiff - and, inspired by reggae and Kraftwerk, they started making electronic music together.
"Who would have thought when we were mucking round in our bedrooms in our villages [in Wales] enjoying each other's company, we'd be seeing the world and feeding our families by doing all this crazy stuff. Who would have thought?" he laughs.
Following Underneath the Radar, they morphed into the trademark dancefloor-oriented act they are today with the addition of house DJ Darren Emerson, who gave the band a more pulsing and throbbing sound.
But it's Hyde and Smith who have remained the core of the band and after nearly 30 years together Hyde puts their longevity down to a shared love of music, stubbornness, and their "Welshness".
"We're stubborn," he laughs.
"And we just like working together, it's that simple. Even after any disagreements we've had over the years we still like working together. And we love music, and that's a force that we both hold very dear. And oddly enough there is an inherent Welshness in the group," he says proudly, with which TimeOut lets out a little laugh.
"Yeah, we laugh at it too," he hoots, "but there is something there that is very Welsh whereby people tend to stick together regardless of what happens.
"We've had issues over the years but it's always been just ego, or getting out of the wrong side of the bed, and we get over it because we've got music to make here and when you see peoples' reactions to the music it makes small of any personal issues we might have."
It's not that Hyde is melodramatic, but he speaks passionately and sentimentally about Underworld's meaning in his life.
"It's at the core of what I am as a musician. And being part of Underworld means being best mates with Rick. It means making music which is for me about putting something positive back in.
"And," he reflects, "I've been doing it for so long, it's not that I can't imagine doing anything else, I'm happy doing this."
And then this about the Underworld live experience: "What Rick and I do is we try and be as honest as we possibly can with a gift that we offer out. And the reaction that comes back to us is what drives us. What we're doing is jamming with people, and an hour and a half, sometimes three hours later we come off stage wondering what just happened."
Hyde is clearly a man who's happy with his lot and he doesn't mind admitting one of Underworld's key principles is "don't split up".
Both he and Smith were gutted when bands they loved and were influenced by split up "for such ridiculous reasons".
"The Beatles. Bunch of twits. It broke my heart. What was the point of breaking up. And the Police. Come on guys, get over it - because sometimes it's the differences that make the music great."
He says having other projects on the go also helps keep what they do fresh.
In recent years they have been working with ambient music guru and producer extraordinaire Brian Eno - "Often when you meet your heroes you're disappointed but I haven't been. He's a good man" - who guests on the band's latest album, Athens, a compilation that showcases the band's more obscure influences.
"We've recorded hours and hours of material together," says Hyde of their collaborations with Eno.
"But what's nice is that we can go away and do things with other people but when I come back to it it reminds how much I love it and that it's at the core of what I do."
LOWDOWN
Who: Underworld
What: Pioneers of dance music for the masses
Where & when: We Love Sounds, Trusts Stadium, June 4, with Crookers, Laidback Luke, Minuit, Mt Eden Dubstep, Kids of 88, Naked and Famous, and Pig Out.
Essential albums: dubnobasswithmyheadman (1994); Second Toughest in the Infants (1996); Beaucoup Fish (1999)
By Scott Kara @scottkara

Email

Scott