Rating:
3/5
Verdict: Mixed bag on star-studded solo debut from Gunners guitarist.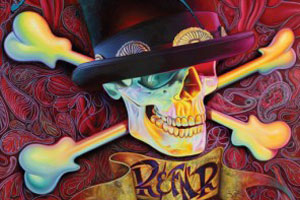 Slash has roped in many of his accomplished and famous mates to create an album that is often inspired but at times weak.
Recorded over two years, it's quite an achievement to get so many big names - covering a wide range of musical styles - on one record, from pop starlet Fergie to grumbling rock icon Lemmy of Motorhead.
However, the diverse line-up of singers makes for an uneven album that moves from the country rock of I Hold On (with Kid Rock), to overwrought acoustic beauty Saint Is A Sinner Too (with Rocco Deluca).
The galvanising feature is Slash's unique mix of laid-back yet gutsy guitar shredding and solos, especially on the album's surprise highlight, By the Sword, with Wolfmother's Andrew Stockdale adding a sprawling and psychedelic element, and Dave Grohl's instrumental stomp Watch This Dave.
The tracks with true legends - Iggy Pop, Lemmy and Ozzy Osbourne - are solid, if predictable.
Iggy prowls and postures all over We're All Gonna Die, Ozzy is at his solo best rather than Black Sabbath best on Crucify the Dead, and while you've heard Lemmy's tale of drug-addled chaos on Doctor Alibi many times before, it's a welcome respite from wimpy Gotten (with Maroon 5's Adam Levine). It's the Slash/Stockdale-type pairing the album needs more of, because as the two songs with Alter Bridge's Myles Kennedy are testament to, much of it falls into the "good but not that memorable" classic rock category.