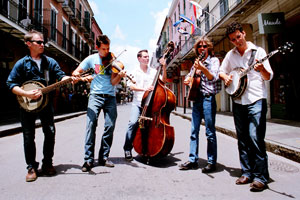 Until this year, Ketch Secor of Nashville's Old Crow Medicine Show had never bothered to watch American Idol. But when a young Tennessee country girl named Vanessa Wolfe sang Old Crow's Wagon Wheel, he couldn't help himself.
For such a shy wee lass, she did a gutsy and rootsy version of the song and it got her through to the "Hollywood" round.
"That's certainly a milestone in terms of achievement," laughs Secor, both in reference to Wolfe's performance and the fact one of the band's songs had made it on to the high-rating show.
"That's a symbolic event that really shows me how far we've come as a band, that we can touch somebody's life like that and compel them to change and get on a TV show instead of working at a department store for 20 years. She was like Loretta Lynn you know, the real thing. She's living the kind of life that television doesn't have any room for. And here's a song that's found a way into a girl's heart and changed her.
"I just loved it for four and a half minutes Fox [the TV network] had to tell the story of a hillbilly girl," he says.
That's Old Crow Medicine Show for you, always sticking up for the underdog.
"We sing," continues Secor, "about people who have been disenfranchised, for whom the American Dream is out of reach, because these are the folks for whom folk music is so valid and empowering."
Secor is into making grand statements, but he delivers them with such a down-home, relaxed charm that he never comes across as pompous. And he's right, the band have come a long way since forming in 1998, especially considering the old time American roots music they play - albeit with a fiery rock'n'roll attitude.
The release of 2008's Tennessee Pusher, a thrilling, rabble-rousing album about drug users, down and outers, and hustlers, confirmed their popularity.
Another "symbolic event" that sums up OCMS's standing happened during their last tour to New Zealand in early 2009.
They had such a hoot, with rowdy thigh-slapping audiences greeting them everywhere they went, that they are heading back here this month for five shows, including Auckland's Powerstation on March 18.
"We have been playing in foreign lands for the majority of years we've been together," says Secor, "and of all the places we've gone far and wide to perform in, New Zealand and Australia showed us something we hadn't seen before. I feel like we're a lot closer to our audience in New Zealand than we are in any other foreign land.
"And to pack your instruments up and travel that far to perform I think that's a real indication of how far we've come as a band. To bring our fiddles and our banjos, in the belly of that plane, and to travel so many thousands of miles, I just love knowing we're there because of our music."
Secor and school friend Chris "Critter" Fuqua, who plays banjo and guitar, formed the band in Ithaca, New York state, with Willie Watson (vocals, guitar, banjo), Morgan Jahnig (bass), and Kevin Hayes (guitjo, vocals).
They set about touring all over North America, and their lucky break came while busking in Boone, North Carolina, when they impressed American folk-country player Doc Watson who signed the lads up to play his annual festival, Merlefest. Soon after, in 2000, they moved to Nashville where they have been based ever since.
While their music is steeped in the tradition of American roots and folk music, Secor is keen to point out it's more diverse than it might seem - especially live.
"There's a big difference between the variations of roots music and the biggest one is the chasm between bluegrass and old-time music. We don't really play bluegrass, because it's a lot later in the chain in the evolution of American roots music - and what we play is deeper. Bluegrass is on the trunk of the tree and we are way down underground," he explains.
"And to me, I don't want to draw any lines between what we choose to sing and play. We want to play music from Memphis, from Cincinnatti, rock'n'roll, junk band music, white hillbilly music, jazz, and all these variations."
And for Secor, music keeps getting more important to him by the day.
"It's a constant discovery and I'm inspired by other artists and musical kinship. It's a language that if you speak it, everyone else who speaks it are your sisters or your brothers. Music just keeps getting deeper for me, and I just keep getting more compelled by this great body of work that is American song. I learn more and more every day, and hear songs every day that blow my mind."
LOWDOWN
Who: Old Crow Medicine Show What: Old-time music today When & where: Mar 18, Powerstation, Auckland; Mar 19, Founders Theatre, Hamilton; Mar 20, Opera House, Hastings; Mar 24, the Opera House, Wellington
Latest album: Tennessee Pusher (2008)