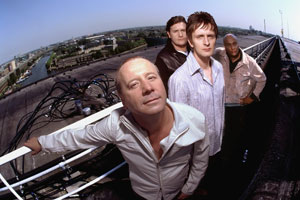 Scottish group Simple Minds return to New Zealand for a show at the Civic in Auckland on March 30. Their first visit here was for the 1984 Sweetwaters Music Festival; they returned in 1987 as part of the Alive & Kicking World Tour; and then again in 2006.
The band's current world tour is to celebrate 30 years since they formed in Glasgow in 1979 - so it's safe to say they will play a greatest hits set with songs like Waterfront, Don't You Forget About Me, and Alive and Kicking getting an airing.
For something completely different, Kiwi singer Will Martin has announced a one-off show especially for Mother's Day. The young tenor, whose done well for himself overseas scoring a No. 1 album with A New World, will perform at the Bruce Mason Centre on May 8 - and he wants you to choose the songs he sings. For more information and how to help Will design his set list go to willmartin.co.nz.
Meanwhile, Head Like A Hole play two intimate shows in Auckland at Bacio (that's 309 K Rd) on March 12 with Rackets, and March 13 with Transistors and Street Chant.
Tickets are limited to 200 a night through undertheradar.co.nz with the Friday show starting after The Pixies have played at Vector Arena.