Who: Slayer and Megadeth Where and when: Logan Campbell Centre, Monday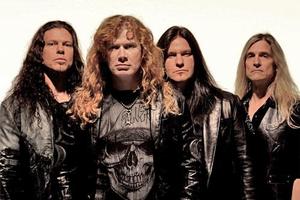 As double-bills go, they don't make them much like this anymore. Nor do they come as hard, fast and heavy as Slayer and Megadeth in one room on the same night.
The only shame is both bands - who are regarded as two of the big four thrash metal bands of the 80s, along with Metallica and Anthrax - can't play for longer. As it is Slayer's triumphant last-song slaughter, Raining Blood, from the band's calssic 1986 album Reign In Blood, is a little rushed because they presumably have to meet an 11pm curfew. Still, that's being picky and more on Slayer soon.
First up - following local support band Dawn of Azazel - is Megadeth, the band founded by guitarist Dave Mustaine in 1983 after he got booted out of Metallica for being too much of a bad boy. He may not have had the mass success of Metallica, but Mustaine shows why he is one of the most revered metal guitarists around. His famously furrowed lips might be a sign of concentration, but it's his fingers that conjure up a sound that's flowery, potent and heavy all in one.
Along with his new axeman Chris Broderick, Megadeth storm their way through a set of old songs, with 1986's Devil's Island a shout-a-long highlight, mixed with new, including the hillbilly thrash of Headcrusher off new album Endgame.
But then Slayer take things to a louder and more extreme level as they crack into new song, World Painted Blood, the title track to the band's 11th album which is out next month.
Elsewhere the hour-long set - far too short compared to their epic show two years ago at the St James - takes in the brutal sludge groove of Mandatory Suicide from 1988, through to the militant discord of 2006's Jihad, and two other new tracks, Hate Worldwide and Psychopathy Red. Singer and bass player Tom Araya introduces the latter with a grin: "This is a song about death and murder." To which a friend jokes: "Oh really, no kidding."
But best of all, once again, is Reign In Blood's harrowing anthem Angel of Death. Even though the song is 23 years old, you can tell Slayer still relish playing it. Araya spits his lyrics like a rapper, only more ferociously; guitarists Kerry King and Jeff Hanneman lurch around reeling off riff after punsihing riff; and drummer Dave Lombardo switches between being seated and standing as he unleashes.
Not bad for four blokes in their mid to late 40s. Slayer is not slowing down, and judging by the number of kids here with their folks the band's legacy is in safe hands.
And even though Raining Blood was rushed, there's nothing quite like the contrast of the song's demented opening riff, before the brutality comes in, and then finally the take off into bedlam.
Considering the intricacy, pace, and heaviness of songs like that, and Angel of Death, Slayer are the undisputed tightest band on the planet.