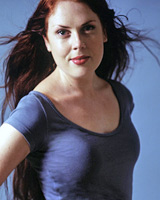 Auckland has yet to become accustomed to the singular joys of Baroque Opera and Auckland Opera Studio's presentation of Handel's Julius Caesar gave us a taste of what we are missing.
Skilful pruning had reduced the opera to half its length and, as soon as director-cum-MC Raymond Hawthorne uttered the ominous "Alexandria, 48 BC", we knew we were in for a tale of lust, intrigue and violence, Handel-style.
A cast of five singers and two actors held us engrossed for two hours. A small on-stage band, under Ross Pople, played with a snap and vitality that Handel himself would have appreciated.
Indra Hughes' fluent harpsichord was never at a loss for rivulets of sparkling sound.
The main protagonists responded to Hawthorne's vision in full theatrical measure. Twenty-two-year-old James Ioelu as Julius Caesar may need more experience in bringing out the inner life of recitative, but he was vocally agile and his punchy Va taccito was a treat. Malcolm Ede, as Tolomeo, was a chilling villain, although too often vocal tone was sacrificed for dramatic menace.
Kate Spence was the noblest of Cornelias from her very first aria Priva son dogni conforto and, with Zan McKendree-Wright's Sesto, delivered one of the emotional peaks of the evening in the duet Son nata a lagrimar, especially in the women's passionate unaccompanied cadenza.
Anna Leese would have been the drawcard for many in the audience and the soprano showed the style that has been earning her the adulation of the British press.
Not only does she sing divinely as Cleopatra, she can invest an actor's instinct, adding subtle detail and business to her arias.
Her Act 1 duet with brother Tolomeo had a sinister underlay that is not indicated in the black-and-white of the score.
Her big number, the luscious V'adoro, combined coyness and sensuality with immaculate singing to marvellous effect.
Raymond Hawthorne has produced a modest masterpiece that catches the raw, beating heart of Handel's opera.
By William Dart

Email

William